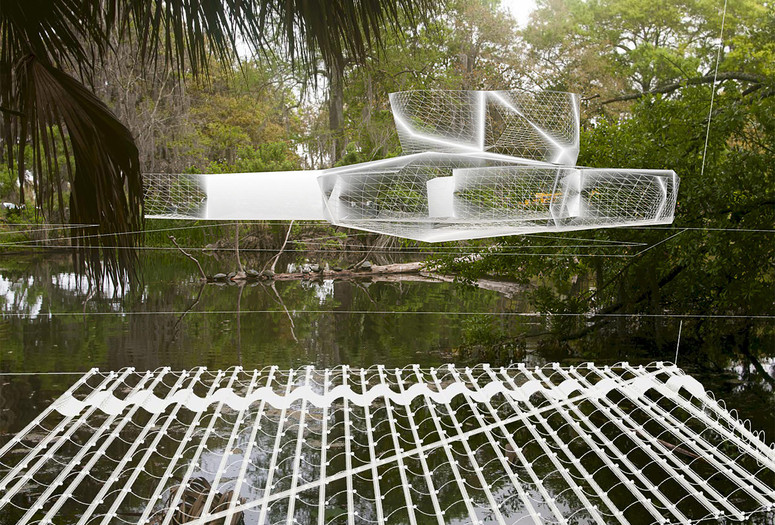 How can blackness construct America? How can we develop our visions, scenarios, expectations, counter-narratives, and strategic plans into a future? Join theorists Beth Coleman, dream hampton, and V. Mitch McEwen, and Kristina Kay Robinson for a conversation exploring these and other topics raised in the exhibition Reconstructions: Architecture and Blackness in America and the free online course Reimagining Blackness and Architecture. This conversation will be moderated by Ingrid LaFleur.
This event is free, open to all, and takes place over Zoom meeting. Register now
Moderator:
Ingrid LaFleur is a curator, artist, pleasure activist, and Afrofuturist committed to exploring and implementing forward-thinking solutions across multidisciplinary industries, including, but not limited to, art, technology, education, social enterprise, and finance. In 2020, she founded the Afrofuture Strategies Institute (TASI) to research the future impact of emerging technology on Black bodies and to co-create alternative destinies using ethical imagination. LaFleur serves on the board of JustSpace Alliance, which advocates for a more inclusive and ethical future in space. She is currently working on her first book, with the working title How to Think Like an Afrofuturist.
Speakers:
Beth Coleman is a research scientist and artist. She is an associate professor of Data & Cities at the Institute of Communication, Culture, Information and Technology and Faculty of Information, University of Toronto, where she directs the City as Platform lab. She is the cofounder of SoundLab Cultural Alchemy, an internationally acclaimed multimedia art and sound platform. She has a history of international exhibition, including venues such as the Whitney Museum of American Art, New Museum of Contemporary Art, and Musée d'Art Moderne Paris. She has held artist residencies at Recollets, Paris, Waag, Amsterdam, and Pioneer Works, among others. She published the monograph Hello Avatar (MIT Press) along with numerous articles. Her art publications include collaborations with Ellen Gallagher, Chris Ofili, and Parkett. Her research affiliations include Berkman Klein Center for Internet & Society, Harvard University, the Data & Society Institute, New York, and Google Brain. A 2021 Google Artists and Machines Intelligence awardee, she is currently working on "Speculative AI: Octavia Butler and Other Possible Worlds."
dream hampton is an award-winning filmmaker and writer from Detroit.
V. Mitch McEwen is an architectural designer, urban designer, principal of Atelier Office, and one of 10 cofounders of the Black Reconstruction Collective. McEwen also teaches at Princeton School of Architecture, where she directs the research group Black Box, exploring mixed human-robotic processes in design and construction. Her work has been exhibited at the Venice Biennale of Architecture, Museum of Contemporary Art Detroit, Istanbul Design Biennial, Storefront for Art and Architecture, and The Museum of Modern Art.
Kristina Kay Robinson is a writer, curator, and visual artist born and raised in New Orleans. Her written, visual, and curatorial practice centers and interrogates the modern and ancient connections between world communities. Robinson's work focuses on the impact of globalization, militarism, and surveillance on society and their intersections with contemporary art and pop culture. Her ongoing installation and performance art project, Republica: Temple of Color and Sound, has been presented at "Welcome to the Afrofuture" during Miami Art Week; the New Museum's residency program, Ideas City; and the New Orleans African American Museum; and in collaboration with V. Mitch McEwen for Reconstructions: Blackness and Architecture in America. Robinson is the coeditor of Mixed Company, a collection of short fiction and visual narratives by women of color. Her writing has appeared in Guernica, The Baffler, The Nation, The Massachusetts Review, and Elle. In 2019, she received the Rabkin Prize for Visual Arts Journalism. She currently serves as the New Orleans editor of the magazine Burnaway.
Accessibility


This event will have automated captioning. Live captioning and American Sign Language (ASL) interpretation is available for public programs upon request with two weeks advance notice. A PDF of the presentation is available in advance upon request. MoMA will make every effort to provide accommodation for requests made with less than two weeks notice. Please contact [email protected] or (212) 708-9781 to make a request for accommodations.
This session will be led virtually through Zoom, a free video-conferencing software. Participants should have access to a computer, smart phone, or tablet with Internet access. Participants may also dial in using a phone line.




Volkswagen of America is proud to be MoMA's lead partner of education.

Generous support for Adult and Academic Programs is provided by the Agnes Gund Education Endowment Fund for Public Programs, The Junior Associates of The Museum of Modern Art Endowment for Educational Programs, and the Jeanne Thayer Young Scholars Fund. Additional support is provided by the Annual Education Fund.