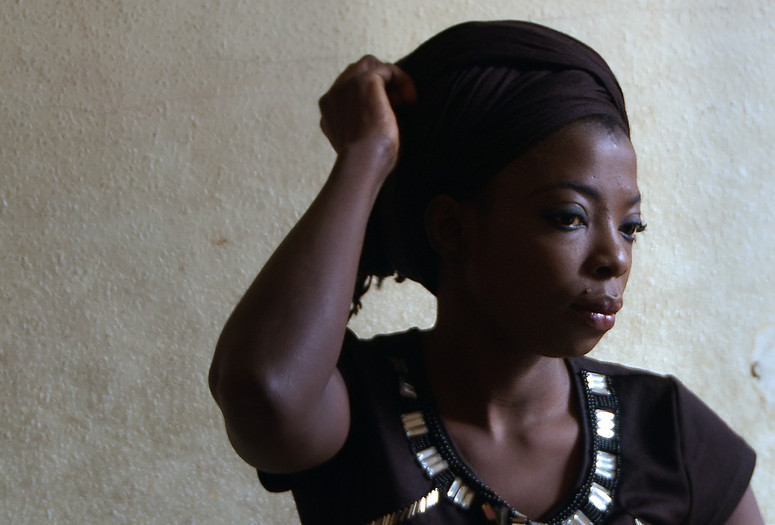 Virtual Cinema screenings are available exclusively to MoMA members. Not a member? Join today and start streaming.
Les prières de Delphine (Delphine's Prayers). 2021. Belgium. Directed by Rosine Mbakam. In French, Cameroonian Creole; English subtitles. 90 min.
Reclining on a daybed in a cluttered Brussels flat, 30-year-old Delphine has a lifetime of stories to tell. Filmed in 2015 but only edited last year, Mbakam's third feature assuredly builds on her previous studies of spaces in which African women can be, and speak, on their own terms. Mbakam's steady camera becomes a confidante to Delphine's roaming, colorful oration: unflinching descriptions of loss, hardship, and gender-based violence in Cameroon, the pursuit of a better life in Europe, and the inner turmoil that haunts her to this day. A modern-day screen test and a tale of survival, Delphine's Prayers transcends the typical artist-subject relationship; its raw emotion is a testament to affinity and trust built over time. Periodically, doorbells or children's voices are a reminder of the drone of daily life off-screen, in which such scars cannot be exposed—or tended to. "Before, I didn't tell [anyone] what I'd been through," declares Delphine, "…now, I've decided to talk about it, to get people thinking." Mbakam's sensitive, visceral portrait of a Cameroonian experience far from her own, related to her via the kinship of diaspora, establishes her as a great contemporary voice in cinema. Courtesy Icarus Films.
Virtual Cinema is not available to Annual Pass members. Virtual Cinema screenings are not available outside the US.