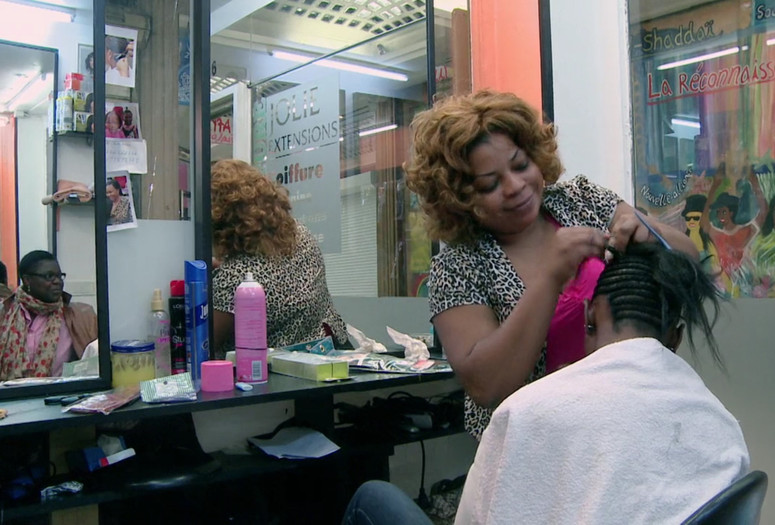 Virtual Cinema screenings are available exclusively to MoMA members. Not a member? Join today and start streaming.
Les portes du passé. 2013. Belgium. Directed by Rosine Mbakam. In French; English subtitles. 15 min. Courtesy the filmmaker
Chez Jolie Coiffure. 2018. Belgium. Directed by Rosine Mbakam. In French; English subtitles. 71 min. Courtesy Icarus Films
Joining the day-to-day bustle of the Jolie Coiffure hair salon over the course of a year, Mbakam follows its magnetic proprietor, Sabine, as she navigates her shifting world with equal care and aplomb. Jolie Coiffure is a hub that provides (officially) aesthetic and (unofficially) community services to West African immigrant women in the Matonge quarter in Brussels. Sabine's outsized presence—she is seen recruiting new members to a mutual aid fund one day, sorrowfully hinting at her own tale of displacement on another—reigns over the compact salon, in which Mbakam uses the many mirrors to reflect Sabine alongside her patrons and friends. Beyond the glass panes, daily menaces, ranging from the callous gaze of passersby to immigration raids, threaten this space created for by and for African women. Mbakam's rarely seen short Les portes du passé takes on the invisibility of migrant and undocumented stories in an ingenious play on the tropes of television nightly news.
Virtual Cinema is not available to Annual Pass members. Virtual Cinema screenings are not available outside the US.