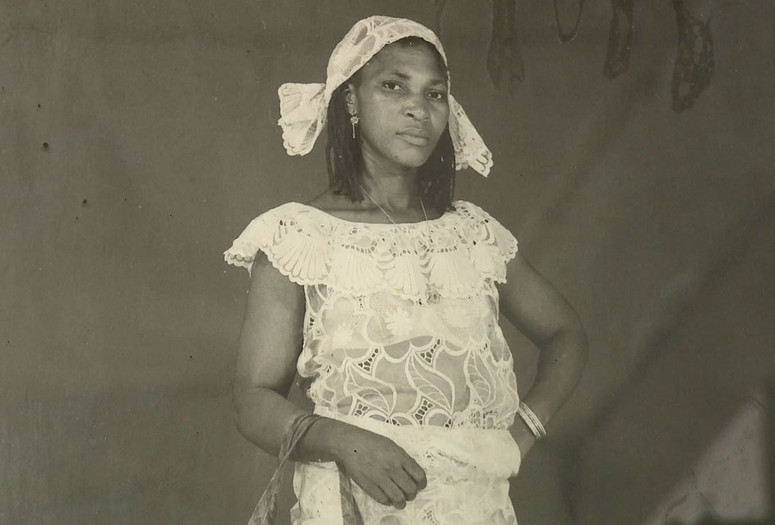 Virtual Cinema screenings are available exclusively to MoMA members. Not a member? Join today and start streaming.
Les deux visages d'une femme Bamiléké (The Two Faces of a Bamiléké Woman). 2016. Cameroon/Belgium. Directed by Rosine Mbakam. In French; English subtitles. 77 min.
Two Faces of a Bamiléké Woman takes gentle, purposeful strides toward remembrance, as Rosine Mbakam returns home to Cameroon, unearthing the personal stories of her mother and extended matriarchal circle. After a seven-year absence, the filmmaker's visit to her native village and the capital city of Yaoundé, with her European husband and young child in tow, are equal parts reunion and self-discovery. Frank but tender interviews with the community of women who raised her allow hidden testimonies—previously suppressed under regimes of colonialism and patriarchy in the service of holding familial worlds together—to emerge. Those join a measured voiceover from the filmmaker, who considers the prodigious wisdom and grace of her subjects against her own experience and craft. In a striking passage, Mbakam shows her mother Ousmane Sembène's landmark 1966 film Black Girl, bringing together the two forms of heritage that shine brightly across her oeuvre. Courtesy Icarus Films.
Virtual Cinema is not available to Annual Pass members. Virtual Cinema screenings are not available outside the US.