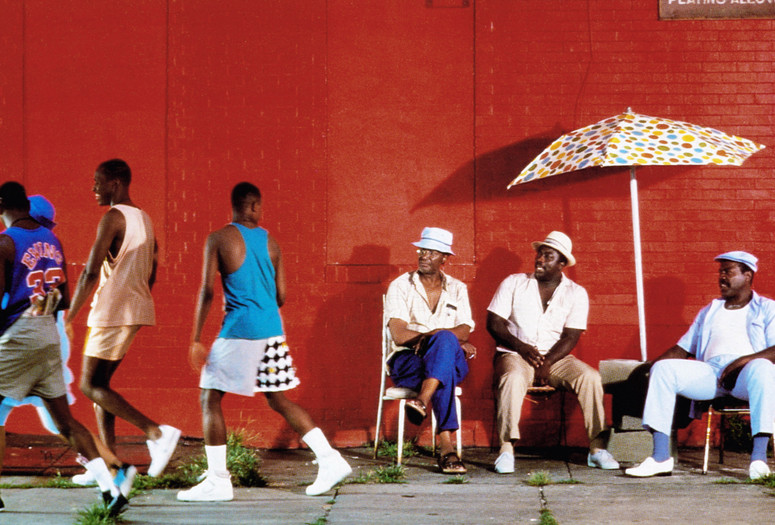 Virtual Cinema screenings are available exclusively to MoMA members. Not a member? Join today and start streaming.
Do the Right Thing. 1989. USA. Written and directed by Spike Lee. With Danny Aiello, Ossie Davis, Ruby Dee, Giancarlo Esposito, Rosie Perez, Spike Lee, Bill Nunn, John Turturro, Joie Lee. 120 min.
On the hottest day of the year, unbearable tension comes to a head between the Black, white, Puerto Rican, and Korean residents of one Bed-Stuy block. Wynn Thomas describes designing the iconic film: "I wanted to find a block where people could not escape from the heat. If there were no trees on the block, you couldn't sit under a tree, there's no shade to escape. When it's so hot, most people don't stay in their houses, they sit on the stoops, but even if you sit on the stoop, you're being exposed to all the sun and heat, which lends to the tension.… Because we were only going to be on this one block for the length of the picture, one of my fears about Do the Right Thing was that there wouldn't be enough visual elements to keep the audience interested. So I began to try and find ways to bring color to the picture. I painted the tops of the steps. I put a few flowers out on the sidewalk. I painted the wall red as one of those choices… we made a choice that was blatantly theatrical. It was an effort to sneak some color into the picture, and I think that wall took on a lot of symbolism for people during the course of the film. Spike's work is very theatrical in its feeling and its intentions. You can't design his films realistically. You can't approach them that way, particularly Do the Right Thing, which has such a theatrical premise. It all takes place in a twenty-four-hour time period; it was like Elmer Rice's Street Scene or Porgy and Bess in that everything is there and converges during the course of the story towards the climax. Choices have to come out of the need to support the characters visually. Spike's work has always stimulated my theatrical impulses, and a lot of the use of color comes from that."
Virtual Cinema is not available to Annual Pass members. With the exception of Modern Mondays programs, Virtual Cinema screenings are not available outside the US.