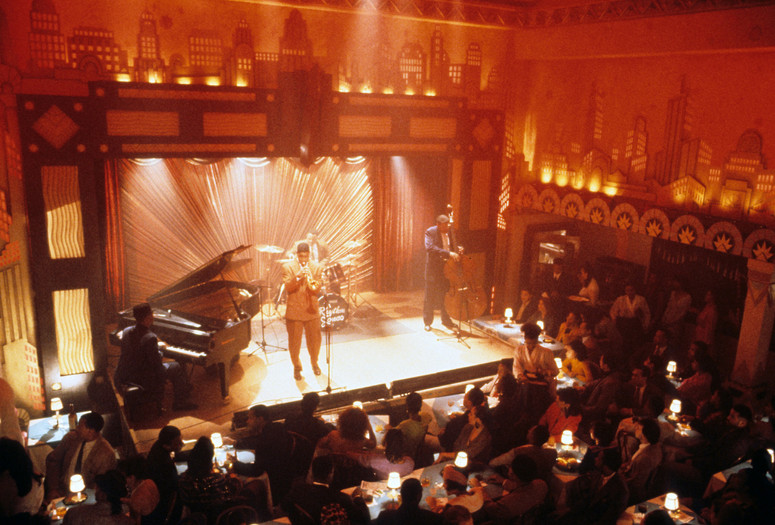 Virtual Cinema screenings are available exclusively to MoMA members. Not a member? Join today and start streaming.
Mo' Better Blues. 1990. USA. Written and directed by Spike Lee. With Denzel Washington, Lee, Wesley Snipes, Giancarlo Esposito, Joie Lee, Cynda Williams, Bill Nunn. 130 min.
Spike Lee's fourth feature, made just after the massive success of Do the Right Thing, explores the pains and pitfalls of career ambition and artistic passion. Jazz trumpeter Bleek (Denzel Washington) is talented but cocky, laser-focused on his career and casually callousness toward Indigo (Joie Lee) and Clarke (Cynda Williams), the women he's seeing. Wynn Thomas's bi-level design of the jazz club set allowed cinematographer Ernest Dickerson to move fluidly between the office, dressing room, and stage. Thomas describes researching the club design: "I did go around to several existing jazz clubs. They're all very small, they're very grimy, they're very dark, and I knew I didn't want to do that. I knew I would want to design a club that had lots of color and go against tradition, because jazz films have a tendency to tell stories about people performing in dark basements.… I always found that other jazz films were so confining in their use of physical space. Jazz is a fluent music. I decided to do a two-story club, so that the music could breathe and live in the space and so I could move the camera fluently in that space.… Generally, I will make up a story about the people I'm designing a set for. The club was owned by Moe and Joe Flatbush, and I decided that they inherited it from their father, which means this club would have come to its peak in the late thirties or early forties. Therefore, it was alright to use an Art Deco influence. I began to look at Art Deco shapes and elements. It was in mixing everything together that I came up with the design.
Virtual Cinema is not available to Annual Pass members. With the exception of Modern Mondays programs, Virtual Cinema screenings are not available outside the US.