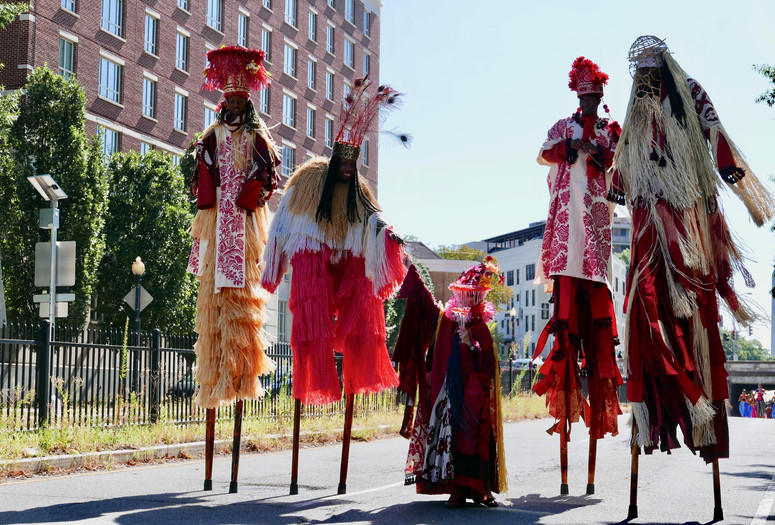 The Contemporary and Modern Art Perspectives (C-MAP) research groups periodically organize a seminar among all four groups that connects their broad research interests and enables members to think more deeply about how the Museum might best address a global view of modern and contemporary art. Hinged on the transversal as a means to engage with and envision new networks and ways of thinking about modern and contemporary art, this year's edition offers an exploration and interrogation of the intertwining of multiple coeval life-worlds through concepts of "extending across."
Over the course of two weeks, transversalism will be offered and considered as a third, enabling term. To transverse is to surpass bipolar socio-historically constructed oppositions such as traditional and modern, male and female, man and nature, local and foreign, theory and practice, etc. Rather than adopting a center-periphery dyad or adhering to "mainstream" canonical standards, changing our perspective of looking at art opens up a way to account for different philosophies and nuances of comparison. This seminar series makes reference to the methodology of "minor" transnationalism, to think and relate along other scales of knowability.
In addition, the seminar will consider what it means to penetrate, exceed, and undermine geopolitical borders that have been set up to define the places that are safe and unsafe; accessible and inaccessible; to construct an "us" and a "them." A border, as Gloria Anzaldúa writes, "is a dividing line, a narrow strip along a steep edge. A borderland is a vague and undetermined place created by the emotional residue of an unnatural boundary. It is in a constant state of transition."
By considering the transversal in its temporal, geographic and/or directional dimensions, as simultaneity, we hope to elucidate the implications of the adoption of this operative term to art history, the museum, exhibitions, collections, philosophy and/or artistic practice. In doing this, new relational terms, stories, and people can be thought of together again.
For questions about the event, please email [email protected]. You can register for each session using the Zoom links provided below. Sessions will be closed captioned.
Looking Sideways
Wednesday, June 2, 9:00–11:00 a.m. EDT
Introduced by Ugochukwu-Smooth C. Nzewi, Steven and Lisa Tananbaum Curator of Painting and Sculpture, MoMA
This panel will look at the processes of migration and contra-flows connecting regions while examining their artistic legacies. Looking at particular geographies, artists, and their stories across time, it will challenge mainstream conceptions of the directionality of exchange within modern and contemporary art. How can minor positions weave a fabric of their own links directly, bypassing the centers of power and information? How can these transnational shared stories be acknowledged and told in a context that recognizes their complexity within history and display systems largely guided by national or global presentations?
Sorawit Songsataya, artist, Te Whanganui-a-Tara Wellington, Aotearoa, New Zealand
Corina L. Apostol, Curator, Tallinn Art Hall, Tallinn, Estonia
Ruth Simbao, DSI/NRF SARChi Chair in Geopolitics and the Arts of Africa and Professor, Department of Fine Arts, Rhodes University, South Africa
Moderated by Wong Binghao, C-MAP Asia Fellow, MoMA
Registration is required. This session will be closed captioned.
Acts of Transfer and the Repertoire
Thursday, June 3, 9:00–11:00 a.m. EDT
Introduced by Roxana Marcoci, Senior Curator, Department of Photography, MoMA
This panel is organized around the idea of the transversal as transfer between disciplines, geographies, the performer, audience and participants, and/or the professional and nonprofessional. By looking at and considering the "repertoire" and acts of transfer through, for instance, translation and embodied dialogue, "hidden" processes of transnational contact and local histories, new cartographies, and unseen relations will come into evidence.
Tsitsi Ella Jaji, Associate Professor of English and Africa and African American Studies, Duke University
Laura Anderson Barbata, transdisciplinary artist, Mexico City/Brooklyn
Lina Lapelyte, artist, Vilnius/London
Moderated by Inga Lāce, C-MAP Central and Eastern Europe Fellow, MoMA
Registration is required. This session will be closed captioned.
Entangled Terrains
Wednesday, June 9, 9:00–11:00 a.m. EDT
Introduced by Sean Anderson, Associate Curator, Department of Architecture and Design, MoMA
Entangled Terrains invites a reconsideration or remapping of regions. Thinking about people who cross borders and borders that cross people, this panel presents perspectives that acknowledge multidirectional histories of migration and colonialism, destabilizing current geographical perimeters. How do we reconsider territorial logic and place vis-a-vis the mobility of individuals? In what ways does one's relationship with the terrain they inhabit reformulate imposed delimitations? What narratives emerge when we examine borderlands and the spaces in-between? And finally, how do art and visual culture entangle terrains?
Sandra Benites, Adjunct Curator for Brazilian Art, Museu de Arte de São Paulo Assis Chateaubriand (MASP), São Paulo, Brazil
Black Athena Collective, Artists Heba Y. Amin, Egypt, and Dawit L. Petros, Eritrea/Canada
Chie Ikeya, Associate Professor of History at Rutgers University, New Brunswick, New Jersey
Moderated by Nancy Dantas, C-MAP Africa Fellow, MoMA
This panel will provide simultaneous translation in Portuguese and English and will be closed captioned. Registration is required.
Politics of Position
Thursday, June 10, 9:00–11:00 a.m. EDT
Introduced by Inés Katzenstein, Director, Patricia Phelps de Cisneros Research Institute for the Study of Art from Latin America, and Curator of Latin American Art, Department of Drawings and Prints, MoMA
This panel explores the particular conditions of locality and the productive tensions between local and global contexts. How do the languages, values, and histories of art and its attendant sociopolitical conditions differ from place to place? Can they be translated, communicated, and made legible, if at all, on a global scale, and what are the stakes of this transfer? Invited speakers discuss the specificities of their local or regional positions or punctuate a pristine map of universality. These discussions aim to generate understandings of art and culture that are not uniformly appraised and consumed, as well as a sensitivity and humility when encountering art from unfamiliar contexts.
Irmgard Emmelhainz, independent translator, writer, and researcher, Mexico City
Jeannine Tang, Assistant Professor of Modern and Contemporary Art History and Interim Program Director of Art History and Visual Studies, The New School, New York
Jaanus Samma, artist, Tallinn, Estonia
Moderated by Madeline Murphy Turner, C-MAP Latin America/Cisneros Institute Research Fellow, MoMA
Registration is required. This session will be closed captioned.
Founded in 2009, C-MAP emerged from a long history of international outreach at the Museum. The initiative is currently organized into four research groups that respectively focus on modern and contemporary art produced in Africa, Asia, Central and Eastern Europe, and Latin America and the Caribbean. The C-MAP group members include senior and junior staff from across the Museum's departments. Each group invites eminent scholars, artists, and curators to lead regular seminars at the Museum according to a geographically focused curriculum and conducts research trips to build local contacts and firsthand knowledge. A website, post, devoted to art and the history of modernism in a global context, makes C-MAP research available to a broader public. As a result of these combined efforts, C-MAP's goal is to nourish a nuanced understanding of the histories and legacies of modernism throughout the Museum's programs and exhibitions.

The Museum of Modern Art's Contemporary and Modern Art Perspectives (C-MAP) initiative is supported by The International Council of The Museum of Modern Art and Agnes Gund.

Major support for the C-MAP Africa Group is provided by The Ford Foundation. Additional support is provided by Wendy Stark Morrissey.