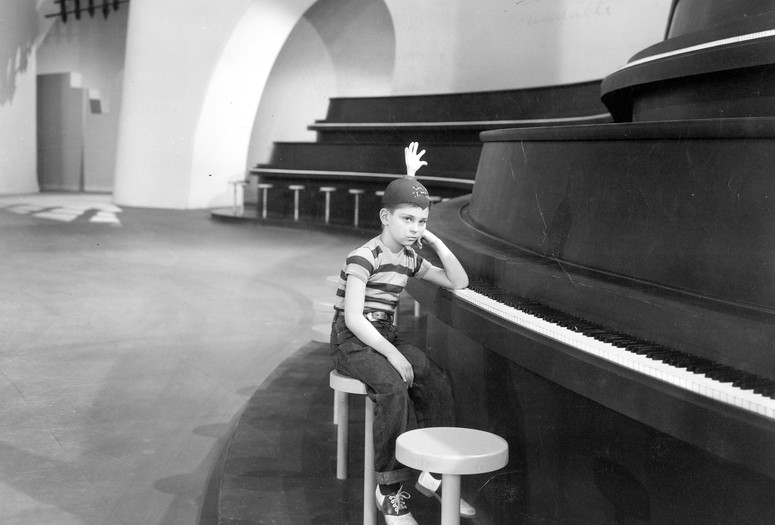 Virtual Cinema screenings are available exclusively to MoMA members. Not a member? Join today and start streaming.
The 5,000 Fingers of Dr. T. 1953. United States. Directed by Roy Rowland. Screenplay by Dr. Seuss, Allan Scott. With Mary Healy, Hans Conried, Tommy Rettig, Peter Lind Hayes. 89 min.
The only Hollywood feature that Theodore Geisel (Dr. Seuss) had a direct hand in writing, designing, and scoring—and then disowning—The 5,000 Fingers of Dr. T grew out of the author's anti-fascist wartime cartoons for the New York daily newspaper PM. The riotously dark fairy tale alienated and confused most contemporary audiences: 500 boys are enslaved in an atomic-age concentration camp, the "Happy Hands Institute," where the draconian Dr. T forces them to practice and perfect his piano masterpiece. But the film's deliriously surreal visual conceits (call it Freudian Pop or Technicolor German Expressionism); Frederick Hollander's frenetic score (which ricochets, in Spike Jonze fashion, from Tin Pan Alley to musique concrète); and Franz Planer's exuberant choreography ("Men painted in putrid green and dressed in rags and suspenders prance over the stone blocks of their prison, tooting multicolored flutes," the filmmaker Joe Dante notes) have since made 5,000 Fingers a cult favorite, inspiring the likes of Matt Groenig and Tim Burton.
Virtual Cinema is not available to Annual Pass members. Virtual Cinema screenings are not available outside the US.