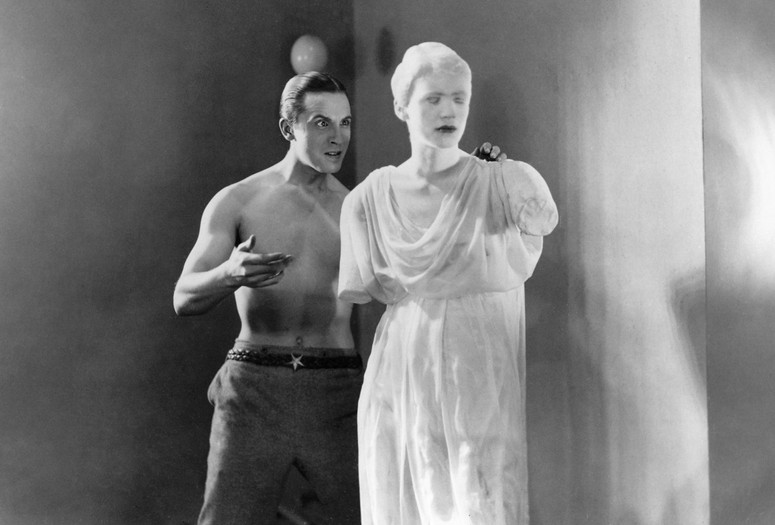 Virtual Cinema screenings are available exclusively to MoMA members. Not a member? Join today and start streaming.
Delany leads with a reprisal of this 1957 program at The Museum of Modern Art, then billed as Two Surrealist Films. The text for that program follows below.
Le sang d'un poète (The Blood of a Poet). 1930. France. Written and directed by Jean Cocteau. With Enrique Riveros, Lee Miller, Féral Benga, Barbette. In French; English subtitles. 55 min.
"A realistic documentary composed of unreal happenings," The Blood of a Poet, Jean Cocteau's first and still most famous film, is an autobiography in the form of a dream. It depicts, using personal dream symbols and memory traces, forces which shape the development of a poet. Script, direction, decor and spoken commentary are by Cocteau; music by Georges Auric; with Enrique Riveros and Lee Miller.
Un Chien Andalou (An Andalusian Dog). 1929. France. Directed by Luis Buñuel. Screenplay by Buñuel, Salvador Dalí. Silent. 21 min.
Un Chien Andalou was produced and directed by Luis Buñuel, from a script by Buñuel and Salvador Dalí. Considered the most artistically successful of all Surrealist films, it was made for the small sum of $1,500. The attempt is made, in Dalí's words, "to systematize confusion and thus help to discredit completely the world of reality." Reason, morality, and conventional aesthetic considerations are rejected, often with gruesome effect. "This film," wrote Buñuel, "has no intention of attracting or pleasing the spectator; indeed, on the contrary, it attacks him." He added emphatically: "Nothing in it symbolizes anything."
Un Chien Andalou also carried a warning: "Because of the deliberately shocking nature of the film, children under 16 will not be admitted."
Virtual Cinema is not available to Annual Pass members. Virtual Cinema screenings are not available outside the US.