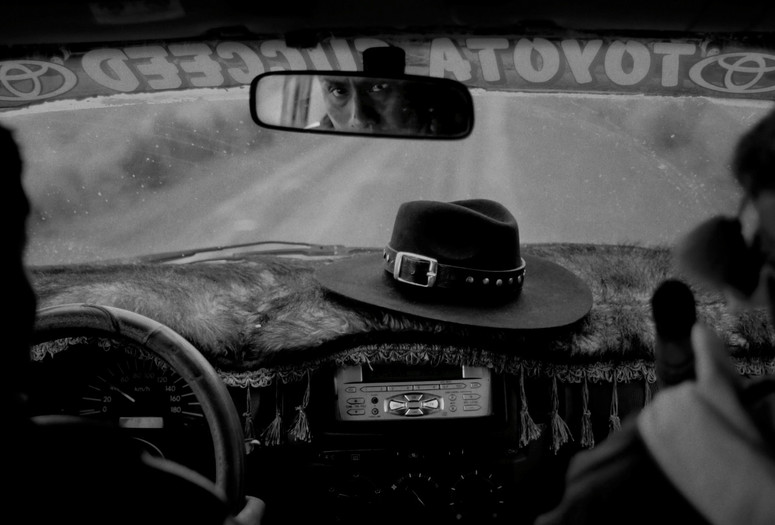 Virtual Cinema screenings are available exclusively to MoMA members. Not a member? Join today and start streaming.
Nha Mila
Denise Fernandes, 2020, Portugal/Switzerland, 18 min.
In Cape Verdean Creole, Portuguese; English subtitles
En route to visit a sick relative in her native Cape Verde after a 14-year absence, Salomé (Yaya Correia) runs into a childhood acquaintance in the Lisbon airport and accepts an invitation to spend her stopover at the woman's home. Anchored by the unhurried sensitivity of Correia's performance, this gentle vignette simultaneously evokes the melancholic absences and unexpected joys of shared diasporic memory.
Limousine
Saulė Bliuvaitė, 2020, Lithuania, 15 min.
In Lithuanian; English subtitles
The camera fills the role of a silent, pensive passenger in this documentary, tucked in the back of various stretch limos as they navigate the streets of Vilnius along with a vibrant assortment of fellow travelers: teens gossiping, older women commiserating, schoolchildren huddling together for strobe-lit selfies. With patience and humor, Saulė Bliuvaitė deftly interweaves these slices of life to capture the rhythms and moods of a city in transit.
Binh
Ostin Fam, 2020, Vietnam, 22 min.
In Vietnamese; English subtitles
An alien in human guise visits Vietnam in search of materials for his home planet, and finds a sprawling construction site erecting a mega-temple. This quietly observed sci-fi tale probes questions of home, belonging, and spirituality while reflecting a changing world mired in capitalistic exploitation.
Beyond Is the Day
Damian Kocur, 2020, Poland, 24 min.
In Arabic, English, Polish; English subtitles
The arrival an undocumented migrant from Palestine disrupts the routine of a lonely rural ferryman, and transforms daily life in his tiny riverside shack, in this dryly humorous and intricately textured fable, shot in velvety black and white.
Summits and Ashes
Fernando Criollo, 2020, Peru, 18 min.
In Quechua, Spanish; English subtitles
In the Peruvian mountains, rituals offer connection between participants and the divine. Resplendently realized in black and white by director Fernando Criollo, this documentary captures a place where the heavens meet the earth.
Program run time: 95 min.
Virtual Cinema is not available to Annual Pass members. Virtual Cinema screenings are not available outside the US.