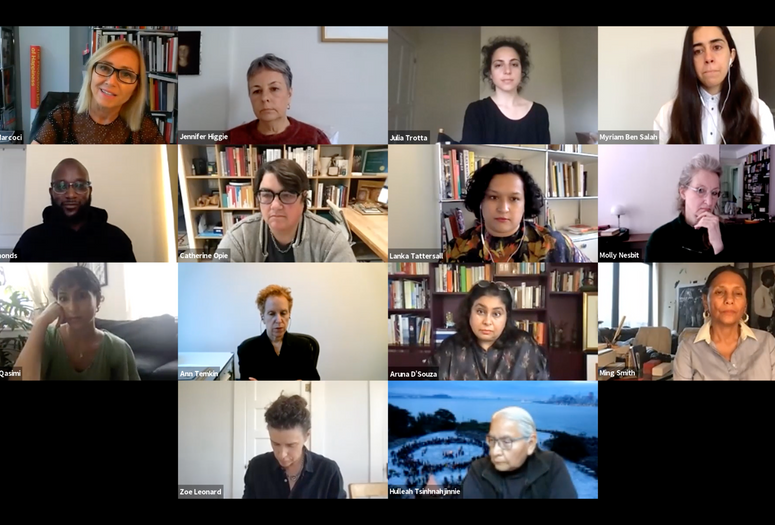 This Forum is dedicated to the fiftieth anniversary of the pioneering art historian Linda Nochlin's essay "Why Have There Been No Great Women Artists?" (ARTnews, 1971). Recognized as a keystone of feminist art theory, this incisive essay along with its 2001 follow-up reappraisal, "Thirty Years Later," a text highlighting the development of intersectional feminisms during the 1990s, changed the makeup of art history by exposing the institutional barriers to the visual arts that women have historically faced. As a scholar and pedagogue, Nochlin perceptively expressed how art criticism and social activism could inform the struggles against systemic inequality and exclusion.
This Forum celebrates the occasion as it also historicizes and illuminates more recent shifts in the world (#MeToo and Black Lives Matter movements) and the discipline of feminist critical theory that has made possible the understanding of Nochlin's prescient interventions.
The featured speakers are:
Farah Al Qasimi, artist and musician
Myriam Ben Salah, Executive Director and Chief Curator, The Renaissance Society at the University of Chicago
Aruna D'Souza, writer and curator
John Edmonds, artist
Jennifer Higgie, Editor at Large, frieze magazine
Zoe Leonard, artist
Wanda Nanibush, Curator, Indigenous Art, Art Gallery of Ontario
Molly Nesbit, Professor of Art on the Mary Conover Mellon Chair, Vassar College
Catherine Opie, artist
Legacy Russell, Associate Curator of Exhibitions, The Studio Museum in Harlem
Ming Smith, artist
Lanka Tattersall, Curator, Department of Drawings and Prints, MoMA
Ann Temkin, Chief Curator, Department of Painting and Sculpture, MoMA
Julia Trotta, filmmaker, curator, and writer
Hulleah J Tsinhnahjinnie, artist and Professor, Department of Native American Studies, UC Davis
This Forum is co-organized by Roxana Marcoci, Senior Curator of Photography, MoMA, and filmmaker, curator, and writer Julia Trotta.
MoMA members are welcomed to attend. For information, please contact [email protected].
The Forums on Contemporary Photography are made possible through the generous support of the Joseph M. Cohen Family Collection.