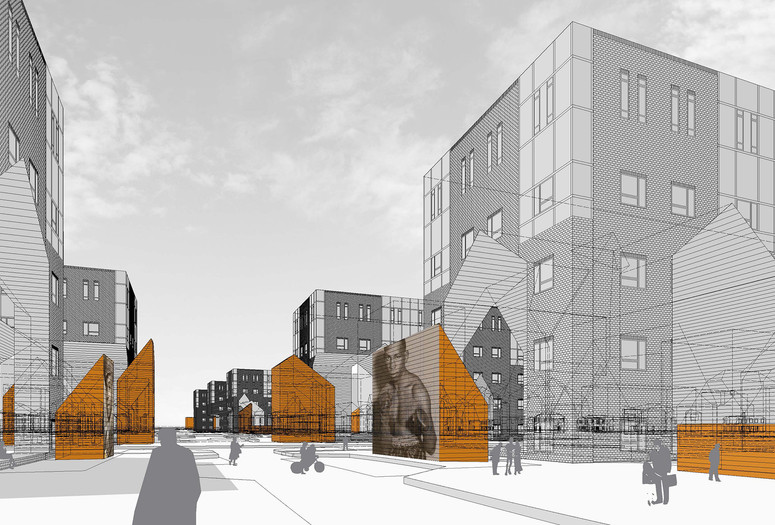 How do we reckon with the past to create a future? Who tells the history of your neighborhood? How do we attain spatial justice? This discussion will expand and explore questions raised in the exhibition Reconstructions: Architecture and Blackness in America by inviting the panelists and audience members to consider their positions, choices, and personal and collective power in working to protect and create Black urban spaces. This event is moderated by Ifeoma Ebo and is planned in collaboration with the BlackSpace Urbanist Collective. Audiences are encouraged read BlackSpace's manifesto in advance of the event.
Speakers:
Ifeoma Ebo is an urban designer and strategist who transforms urban spaces into platforms for equity and design excellence. She is the founding director of Creative Urban Alchemy LLC and a founder and board member of the BlackSpace Urbanist Collective.
Sekou Cooke is an architect and assistant professor at Syracuse University's School of Architecture and principal of sekou cooke STUDIO. His research centers on the field of Hip-Hop Architecture, a theoretical movement reflecting the core tenets of hip-hop culture with the power to create meaningful impact on the built environment and give voice to the marginalized and underrepresented within design practice.
Justin Garrett Moore is a transdisciplinary designer and urbanist and is the program officer for the Humanities in Place program at the Andrew W. Mellon Foundation. He is a member of the American Planning Association's AICP Commission, the Urban Design Forum, and the Black urbanist collective BlackSpace.
Mario Gooden is principal of Huff + Gooden Architects, whose practice is dedicated to the creation of architecture as an exploration of culture and knowledge. He is a professor of practice at the Graduate School of Architecture Planning and Preservation of Columbia University, where he is the codirector of the Global Africa Lab (GAL).
J. Yolande Daniels is a cofounding design principal of studioSUMO in New York. The work of studioSUMO ranges from institutional and cultural projects in education and the arts to housing, to research-oriented installations and exhibitions. Daniels is an associate professor at USC's School of Architecture.
Felecia Davis is an associate professor at the Stuckeman Center for Design Computing in the School of Architecture and Landscape Architecture at Pennsylvania State University and is the director of [email protected] This lab is dedicated to developing soft computational materials and textiles for Penn State students and faculty and industry and community partners engaged in collaborative research projects.
Peggy Shepard is cofounder and executive director of WE ACT for Environmental Justice. She serves on the Executive Committee of the National Black Environmental Justice Network and the Board of Advisors of the Columbia Mailman School of Public Health, and was the first female chair of the National Environmental Justice Advisory Council to the US Environmental Protection Agency.
This event is free, open to all, and takes place over Zoom meeting.
To register, click here
Accessibility: This event will have live captioning. American Sign Language (ASL) interpretation is available for public programs upon request with two weeks advance notice. A PDF of the presentation is available in advance upon request. MoMA will make every effort to provide accommodation for requests made with less than two weeks notice. Please contact [email protected] or (212) 708-9781 to make a request for accommodations.
This session will be led virtually through Zoom, a free video-conferencing software. Participants should have access to a computer, smart phone, or tablet with Internet access. Participants may also dial in using a phone line.




Volkswagen of America is proud to be MoMA's lead partner of education.

Generous support for Adult and Academic Programs is provided by the Agnes Gund Education Endowment Fund for Public Programs, The Junior Associates of The Museum of Modern Art Endowment for Educational Programs, and the Jeanne Thayer Young Scholars Fund. Additional support is provided by the Annual Education Fund.