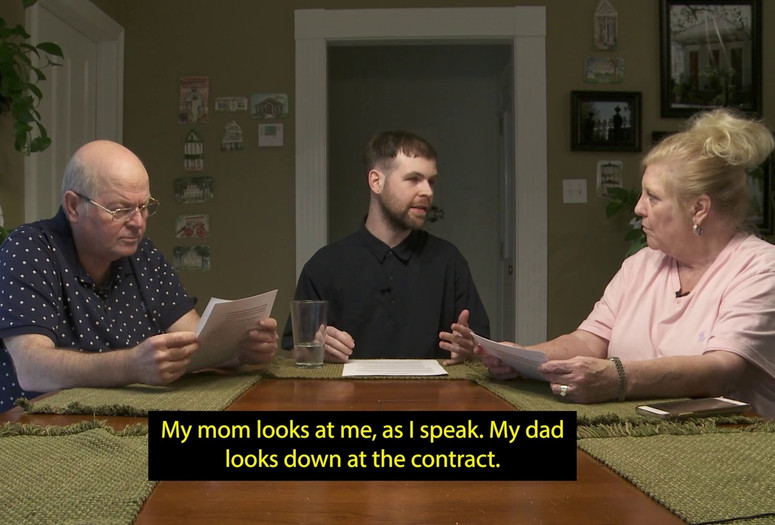 Virtual Cinema screenings are available exclusively to MoMA members. Not a member? Join today and start streaming.
Shared Resources. 2021. USA. Directed by Jordan Lord. World premiere. 98 min.
Artist, filmmaker, and writer Jordan Lord has filmed their parents over the past five years—the term of a Chapter 13 bankruptcy precipitated by Lord's father losing his job as a debt collector. Shared Resources embeds their story of trial and resilience negotiating a system predicated on self-reliance in a broader reflection on forms of debt and interdependence in family life and art-making. Between holidays and domestic scenes in the Lords' Mississippi home, the filmmaker's parents react to edited footage and negotiate their own representation. Lord finds parallels in contractual norms across debt management and documentary filmmaking, abandoning the latter in search of enduring, dedicated models of consent and collaboration. Multiple viewpoints are expressed through audio descriptions and open captions, making access a constituent element of the film and interrupting the primacy of any one form of spectatorship. Poignant but also wonderfully tender and humorous, Lord's work asks what it truly means to be bonded with another person—and to owe each other everything.
Please note: This film contains flickering images. Viewers with photosensitivity or epilepsy should use caution.
Virtual Cinema is not available to Annual Pass members. Virtual Cinema screenings are not available outside the US.