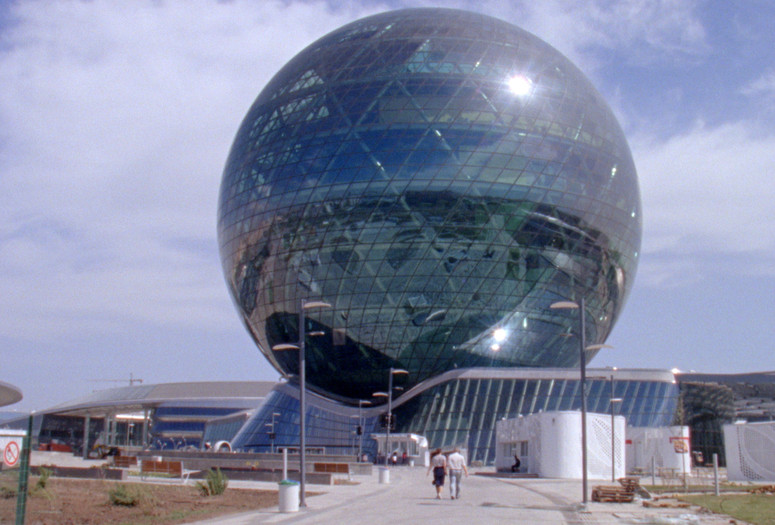 Virtual Cinema screenings are available exclusively to MoMA members. Not a member? Join today and start streaming.
A pair of spellbinding cinematic journeys excavate the observable and ineffable traces history can inscribe on a landscape. In Bicentenario, bicentenary parades and reenactments along the path of Simon Bolivar's liberation battles across present-day Colombia hint at the messy work of ritual and collective memory. In On a Clear Day You Can See the Revolution from Here, the vast Kazakh steppes display an astonishing kaleidoscope of human-built structures and folklore from the Soviet era and since, all meant to harness natural resources and urban planning for an ever-shifting political project. Both shot on 16mm, Pablo Alvarez-Mesa's subtle political essay and the shimmering anti-ethnographic recordings captured by Emma Charles and Ben Evans James examine the fault lines between nation-building and myth-making.
On a Clear Day You Can See the Revolution from Here. 2020. Kazakhstan/Great Britain. Directed by Emma Charles, Ben Evans James. North American premiere. In English, Kazakh, Russian; English subtitles. 64 min.
Bicentenario. 2020. Colombia/Canada. Directed by Pablo Alvarez-Mesa. New York premiere. In Spanish; English subtitles. 44 min.
Virtual Cinema is not available to Annual Pass members. Virtual Cinema screenings are not available outside the US.