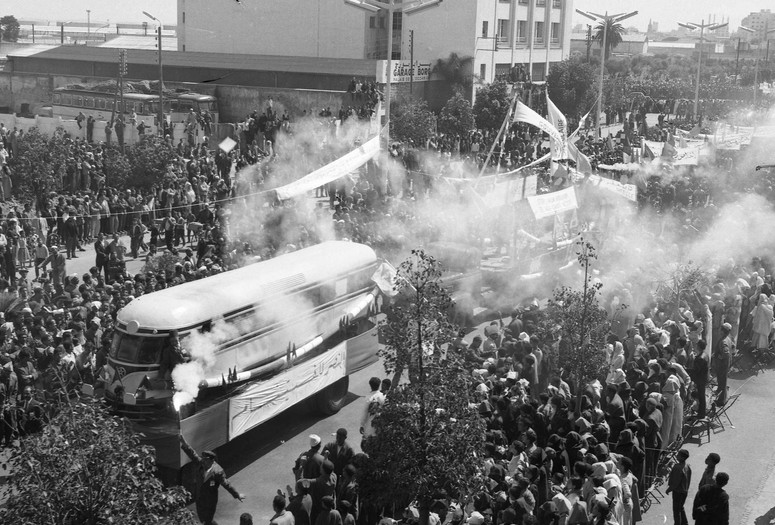 Virtual Cinema screenings are available exclusively to MoMA members. Not a member? Join today and start streaming.
Before the Dying of the Light. 2020. Morocco. Directed by Ali Essafi. North American premiere. In Arabic, French; English subtitles. 70 min.
This stylish chronicle of Morocco's 1970s revolutionary cinema reconstitutes a vital history nearly lost to the forces of censorship and repression. Through film and newsreel fragments and a jaunty mix of printed matter, Ali Essafi recovers the impassioned output of a generation whose postcolonial flourishing was extinguished by the authoritarian crackdown of King Hassan II. Filmmaker Mostafa Derkaoui, an ongoing subject of Essafi's research-based practice, appears in a raspy narration, joining a jazz score hip to the era's transnational liberation movements. Shown in excerpts, Derkaoui's legendary feature About Some Meaningless Events was created in a moment of buoyant experimentation cut bitterly short, resulting in the director being imprisoned for 11 years. That Essafi's collective portrait can be seen alongside the earlier film's recent restoration (and this year's posthumous publication of Ahmed Bouanani's landmark historiography of Moroccan cinema) highlights the tenacity of a cultural heritage across generations.
Virtual Cinema is not available to Annual Pass members. Virtual Cinema screenings are not available outside the US.