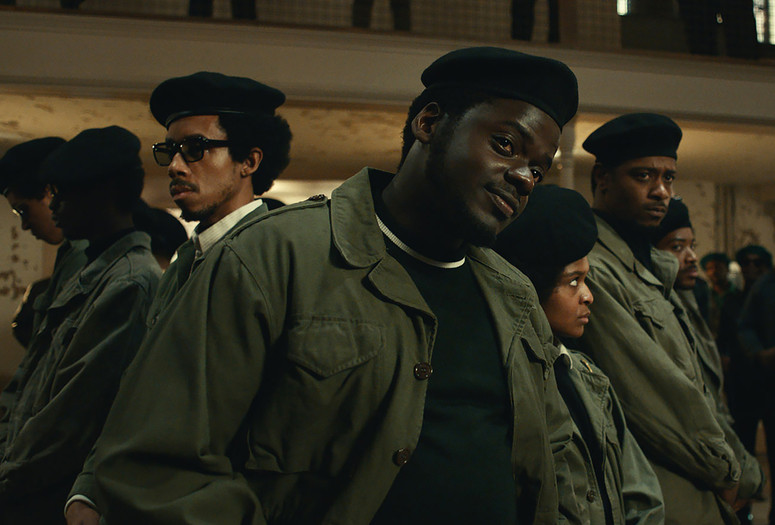 Virtual Cinema screenings are available exclusively to MoMA members. Not a member? Join today and start streaming.
Judas and the Black Messiah. 2021. USA. Directed by Shaka King. Screenplay by King, Will Berson. With Daniel Kaluuya, Lakeith Stanfield, Jesse Plemons. 126 min.
"Fred Hampton's cathartic words 'I am a revolutionary' became a rallying call in 1969. As chairman of the Illinois chapter of the Black Panther Party, Hampton demanded all power to the people and inspired a growing movement of solidarity, prompting the FBI to consider him a threat and to plant informant William O'Neal to infiltrate the party. Judas and the Black Messiah not only recounts Hampton's legacy and the FBI's conspiring but also gives equal footing to the man who became infamous for his betrayal—highlighting the systems of inequality and oppression that fed both of their roles.
Director Shaka King leads an incredible cast led by Daniel Kaluuya and LaKeith Stanfield. Kaluuya channels Hampton's ability to energize and unite communities, while Stanfield taps into the anguish of a man with conflicting allegiances. Dominique Fishback also stands out in her reserved yet confronting performance as Deborah Johnson, Hampton's life partner. King's magnetic film carries themes that continue to resonate today and serves as a reminder of the potent power of the people." (2021 Sundance Film Festival program notes)
Virtual Cinema is not available to Annual Pass members. Virtual Cinema screenings are not available outside the US.