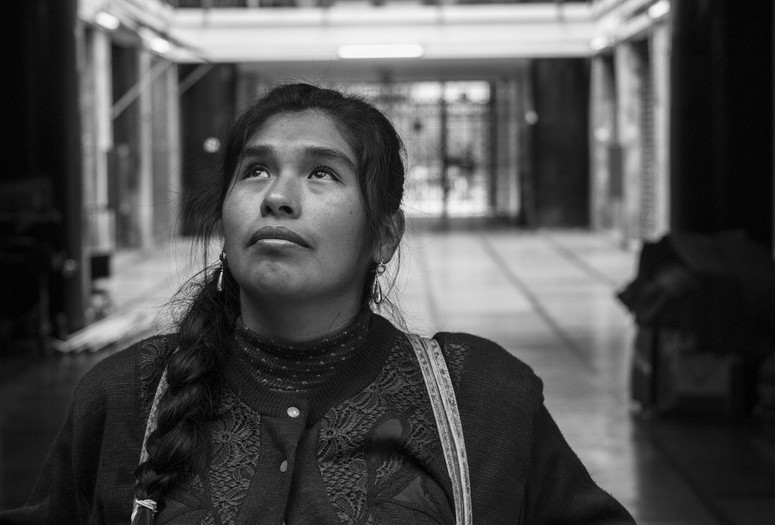 Virtual Cinema screenings are available exclusively to MoMA members. Not a member? Join today and start streaming.
Canción sin nombre (Song without a Name). 2019. Peru/Spain/Chile/USA. Directed by Melina León. In Spanish; English subtitles. 97 min.
Based on harrowing true events, Song without a Name tells the story of Georgina, an indigenous Andean woman whose newborn baby is whisked away moments after its birth in a downtown Lima clinic—and never returned. Stonewalled by a byzantine and indifferent legal system, Georgina approaches journalist Pedro Campas, who uncovers a web of fake clinics and abductions, suggesting a rotting corruption deep within Peruvian society. Set in 1988, in a Peru wracked by political violence and turmoil, Melina León's heart-wrenching first feature renders Georgina's story in gorgeous, shadowy black-and-white cinematography, "styled like the most beautiful of bad dreams" (Variety). Song without a Name is a "Kafkaesque thriller" (The Hollywood Reporter) that unflinchingly depicts real-life, stranger-than-fiction tragedies with poetic beauty. Courtesy of Film Movement
Hello from Taiwan. 2020. USA. Directed by Tiffany Frances. In Mandarin and English; English subtitles. 16 min.
When Taiwanese American five-year-old Christy and her mom reunite with Christy's father and two older sisters at the airport after a year of separation, the cracks between them grow even wider. Through Christy's eyes, we explore the struggles of the family attempting to reconnect.
Tiffany Frances received a 2019 The Future of Film Is Female grant for Hello from Taiwan.
Watch 11 Questions with Tiffany Frances
Virtual Cinema is not available to Annual Pass members. Virtual Cinema screenings are not available outside the US.