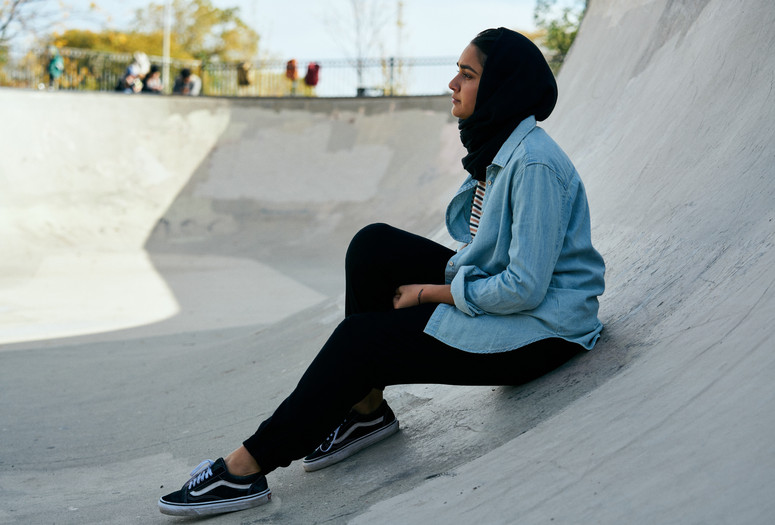 Virtual Cinema screenings are available exclusively to MoMA members. Not a member? Join today and start streaming.
Hala. 2019. USA. Directed by Minhal Baig. With Geraldine Viswanathan, Jack Kilmer, Gabriel Luna. In English and Urdu; with English subtitles. 93 min.
Seventeen-year-old Pakistani American teenager Hala (Geraldine Viswanathan) struggles to balance desire with her familial, cultural, and religious obligations. As she comes into her own, she grapples with a secret that threatens to unravel her family. Courtesy of Apple
A Love Song for Latasha. 2019. USA. Directed by Sophia Nahil Allison. 18 min.
The injustice surrounding the shooting death of 15-year-old Latasha Harlins at a South Central Los Angeles store became a flashpoint for the city's 1992 civil uprising. As the Black community expressed its profound pain in the streets, Latasha's friends and family privately mourned the loss of a vibrant child whose full story was never in the headlines. Nearly three decades later, director Sophia Nahli Allison's A Love Song for Latasha removes Latasha from the context of her death and rebuilds an archive of a promising life lost. Oral history and memories from Latasha's best friend and cousin converge in a dreamlike portrait that shows the impact one brief but brilliant life can have. Courtesy of Netflix
Watch 11 Questions with Sophia Nahil Allison
Virtual Cinema is not available to Annual Pass members. Virtual Cinema screenings are not available outside the US.