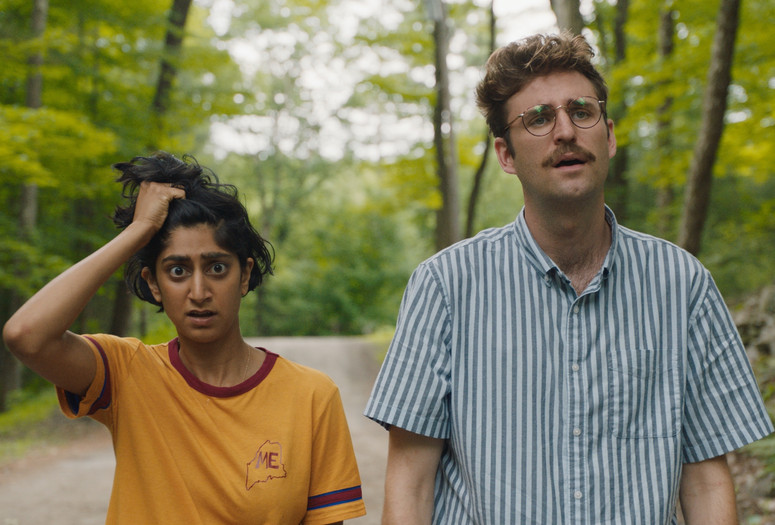 Virtual Cinema screenings are available exclusively to MoMA members. Not a member? Join today and start streaming.
Save Yourselves! 2020. USA. Directed by Alex Huston Fischer, Eleanor Wilson. With Sunita Mani, John Paul Reynolds. 93 min.
Jack (John Reynolds) and Su (Sunita Mani) are a hip Brooklyn couple who, like many of their friends, find themselves dependent on technology and unable to put down their phones. Fearing their mindless scrolling may impact their connection with each other, they seize the chance to head to an isolated cabin in the woods, vowing to unplug from the outside world for a week. Sheltered from texts and push notifications, they are blissfully unaware that the planet is under attack. As strange events unfold, the couple must figure out a way back to civilization—or what's left of it.
Eleanor Wilson received a 2019 The Future of Film Is Female grant for her short film Low Road, which screened as part of The Future of Film is Female, Part 2 at MoMA. Courtesy of Bleecker Street
FITNESS!... or a Story about SWEAT. 2020. USA. Directed by Kana Hatakeyama. 12 min.
Social media– and image-obsessed Lili wants to get fit, so she hires Lorenzo to be her trainer. Intense and mysterious, Lorenzo's passionate and unique methods lead Lili on a very unexpected journey. It's a titillating spiritual comedy about seeking your joyful, deepest nature through technology, human connection...and sweat.
Kana Hatakeyama received a 2019 The Future of Film Is Female grant for FITNESS! Or a story about SWEAT in 2019.
Watch 11 Questions with Kana Hatakeyama
Virtual Cinema is not available to Annual Pass members. Virtual Cinema screenings are not available outside the US.