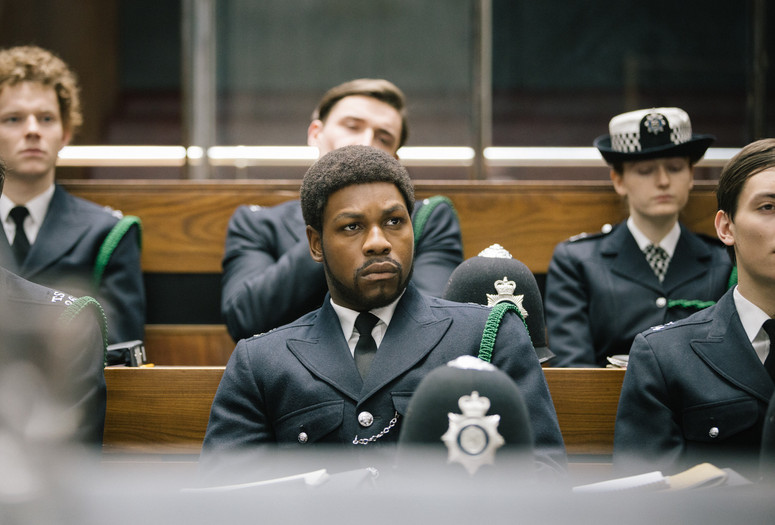 Virtual Cinema screenings are available exclusively to MoMA members. Not a member? Join today and start streaming.
Red, White and Blue, from Small Axe. 2020. USA/Great Britain. Directed by Steve McQueen. With John Boyega, Steve Toussaint. Closed captions available. 80 min.
Epic and intimate, the collective work that is Steve McQueen's Small Axe speaks to our time through very specific historical lenses, in ways that are unparalleled in contemporary cinema. The five films included in this work—which takes its name from an African proverb that states, "If you are the big tree, we are the small axe"—each represent an effort to strike down that which stands in the way of progress, love, justice, enlightenment, and liberation. Bob Marley also referenced this proverb, and McQueen infuses each film with lush, evocative music from the West Indian diaspora. Set in the immigrant communities of London in the 1960s, '70s, and early '80s, the films bear witness to white supremacist police violence, a biased justice system, corrupt incarceration policies, racist schooling programs—things all too familiar today. Perhaps most profoundly, we also experience the exuberant joy and resilience of Blackness. Through dance and food, passion and song, conviction and brilliance, the stories in Small Axe offer a way forward. The path will be hard, the losses will be painful, and the work will take time, but you can be sure that every small victory will be celebrated and every reward resplendent.
Virtual Cinema is not available to Annual Pass members. Virtual Cinema screenings are not available outside the US.