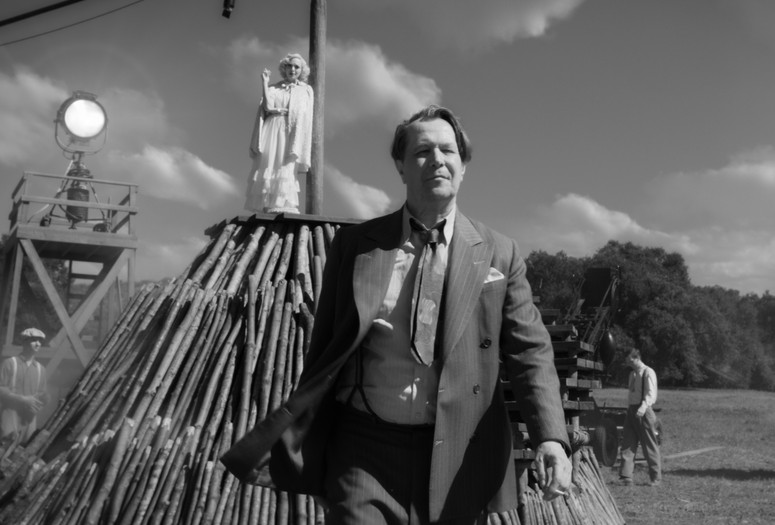 Virtual Cinema screenings are available exclusively to MoMA members. Not a member? Join today and start streaming.
Mank. 2020. USA. Directed by David Fincher. Screenplay by Jack Fincher. With Gary Oldman, Amanda Seyfried. Closed captions available. 131 min.
David Fincher returns to feature films after a six-year absence to train his camera on California circa 1940, where Herman J. "Mank" Mankiewicz is struggling to write the screenplay for Citizen Kane. Working from a script written by his late father, Jack, Fincher nimbly skips from the dark corners of Gone Girl and Mindhunter to sunny golden-age Hollywood, embracing a classic filmmaking style that complements his usual meticulous touch. Filled with enough backlot gossip to satisfy the most ardent film buff, Mank dives headlong into Hollywood lore, as Louis B. Mayer, Irving Thalberg, and Orson Welles weave in and out of a story that also encompasses Upton Sinclair's 1934 gubernatorial campaign and the early days of "fake news." Fincher wisely leans on Gary Oldman's wry portrayal of Mank to hold the film together, and the veteran actor is able to lob Mankewiecz's notorious bon mots with equal parts drunken charm and alcoholic self loathing. Courtesy of Netflix
Virtual Cinema is not available to Annual Pass members. Virtual Cinema screenings are not available outside the US.