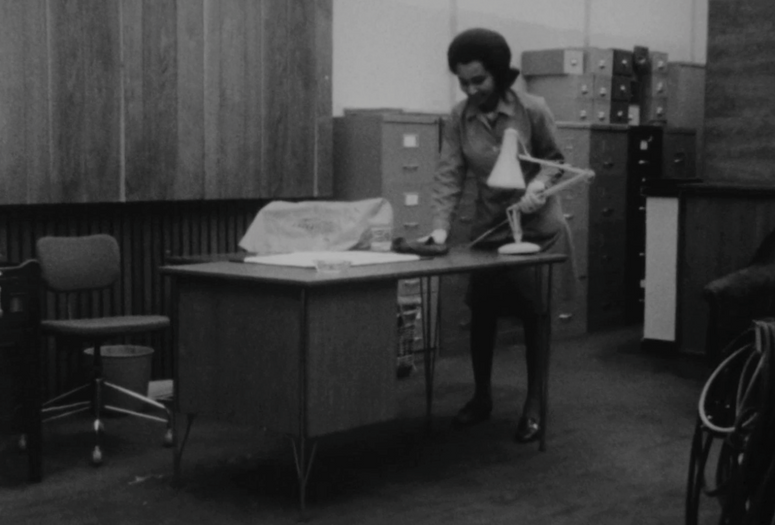 Virtual Cinema screenings are available exclusively to MoMA members. Not a member? Join today and start streaming.
Nightcleaners. 1972–75. Great Britain. Directed by Berwick Street Film Collective. Closed captioning available. 90 min.
Available here in a rare digital presentation, Nightcleaners resulted from the Berwick Street Film Collective (Humphry Trevelyan, Mary Kelly, James Scott, and Marc Karlin) recording the unionization efforts of custodial workers in London in the early 1970s, though the finished film—far from a work of agitprop or even a straightforward document of the campaign—was not what the grassroots organizers had hoped for. Instead, the filmmakers focus on the cleaners, working-class women, many of them immigrants, whose invisible labor cleaning offices at night is inextricable from the domestic labor and family care that fill their days between shifts. Coolly intimate portraits and uninterrupted sequences of the women's repetitive movements across empty, starkly lit office towers—the "task time" of emptying bins or cleaning toilets—are loosely combined with interviews with union bosses and organizers. Throughout, avant-garde strategies like re-photographed images, montage, and the incursion of black film leader tilts the image between affective and reflexive.
At a time when the theory and practice of political filmmaking was being hotly debated, the Berwick collective reflects, through the film's quiet internal tension, the complexities of a post-1968 alliance: Who is excluded from the labor movement? Who is left out of feminism? While it would take a subsequent generation for the Black Audio Film Collective and others to fully take on the intersectional dimensions of these questions, Nightcleaners remains a foundational work, pointing to new ways of thinking about politics and care in cinema.
Virtual Cinema is not available to Annual Pass members. With the exception of Modern Mondays programs, Virtual Cinema screenings are not available outside the US.