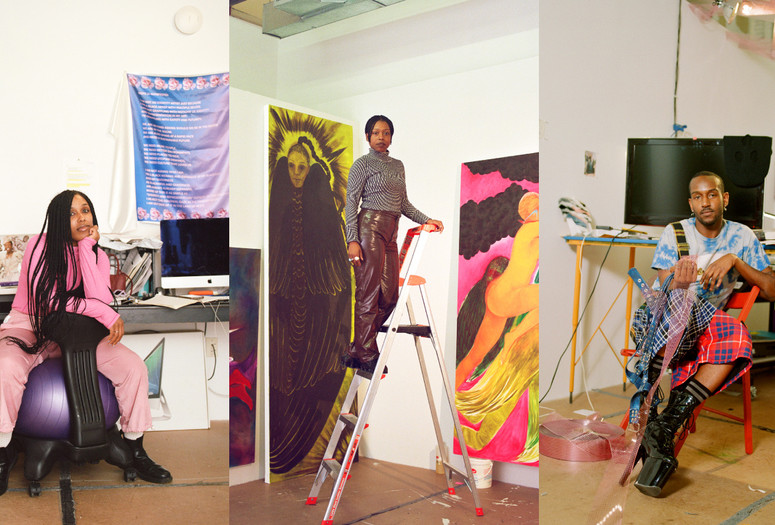 Join us for an online discussion with 2019–20 Studio Museum artists in residence E. Jane, Naudline  Pierre, and Elliot Reed moderated by Legacy Russell, Associate Curator, Exhibitions,  with opening remarks from Thelma Golden, Director and Chief Curator, The Studio Museum in Harlem. In celebration of the opening of This Longing Vessel: Studio Museum Artists in Residence 2019–20, hear the artists speak about their work created over the course of the residency program.
In This Longing Vessel, each artist offers an immersive installation as a gesture of radical intimacy, with work spanning new media, performance, and painting, in exploration of Black desire, idolatry, spirituality, and body politic. Naudline Pierre's vibrant paintings expand on a fictional world driven by an avatar of herself, through which she imagines a more expansive possibility for Black life. E. Jane utilizes video, photography, and ephemera to pay homage to the Black diva and create a space to celebrate and complicate our relationship to Black femmehood. Elliot Reed's video and sculptural work challenges the the sensationalism and fetishization of Black queer bodies, actively troubling the field of performance and the questions of power proposed therein.
This Longing Vessel will be on view at MoMA  PS1 from Nov 18, 2021 to Jan 27, 2022 as part of a multiyear partnership between the two institutions while the Studio Museum constructs its new home on West 125th Street. 
This program will feature live CART captioning.