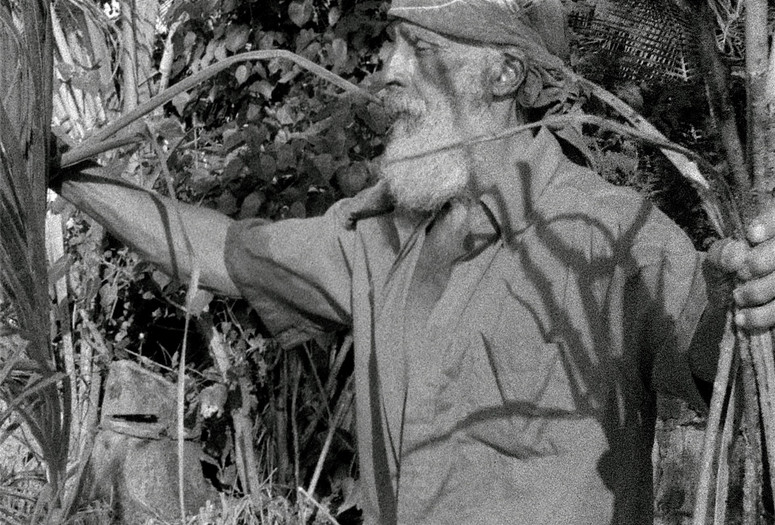 Reweaving Ourselves: Contemporary Ecology through the Ideas of Juan Downey is the second online conference organized by the Cisneros Institute at MoMA and conceived by guest curator Julieta González as part of a three-year research initiative on the relationships between art and the environment in Latin America.
The conference takes as a point of departure a series of technological, anthropological, and political issues raised by the work and writings between the mid 60´s and the early 80´s of late Chilean artist Juan Downey in order to generate a discussion on the way artists, theoreticians, feminist thinkers, ecologists, and climate change activists, among many others, are rethinking Latin America at the present.
Juan Downey's production from the late 1960s onwards was guided by an agenda that sought to address what Argentine critic Jorge Glusberg described as "the Latin American problem"—the condition of dependency created by centuries of colonial occupation and maintained by the modern project of development. Downey's works, such as Make Chile Rich (1970), The Imperialistic Octopus (1972), Anaconda Map of Chile (1973), and Chicago Boys (1983), are explicitly aimed in this direction.
In this session, anthropologist Arturo Escobar will speak about his influential research and writing on post-development, indigenous and grassroots epistemologies in Latin America, and relationality as an alternative to the "defuturing" modern/colonialist/capitalist world system. A conversation between Escobar and artists Minerva Cuevas and Beatriz Santiago Muñoz will revolve around a presentation of their respective practices as strategies of resistance to colonization and extractivism.
Speakers
Minerva Cuevas invites us to rethink the role corporations play in the management of natural resources. Her interdisciplinary projects combine aspects of anthropology and economics and discuss the condition of the individual under a capitalist regime: constant abuse, dispossession and estrangement from ancestral and cultural identity, but also the latent possibility of revolt implicit in the everyday.
Arturo Escobar is an activist-researcher and academic from Cali, Colombia, whose work focuses on territorial struggles against extractivism, postdevelopmentalist and post-capitalist transitions, and ontological design. His most well known book is Encountering Development: The Making and Unmaking of the Third World (1995). His most recent books are Designs for the Pluriverse: Radical Interdependence, Autonomy, and the Making of Worlds (2018) and Pluriversal Politics: The Real and the Possible (2020).
Beatriz Santiago Muñoz is an artist based in San Juan, Puerto Rico. Her work combines aspects of ethnography and theater to create film and video projects that have touched on subjects including anarchist communities, the relationship between artwork and work, and post-military land.
Moderator
Julieta González is an independent curator and researcher who works at the intersection of anthropology, cybernetics, architecture, design, and the visual arts. She has written several essays, organized two exhibitions, and co-edited a monograph on the work of Juan Downey. More recently she has developed research and exhibitions addressing underdevelopment and decolonial aesthetics in Latin America. She has worked as curator at Tate Modern, Museo Tamayo, Bronx Museum of the Arts, and Museu de Arte de Sao Paulo.
The online session will be in Spanish. The video will be posted with English subtitles in December.
Reenlazarnos: la ecología contemporánea a través de las ideas de Juan Downey.
Cuarta parte. Más allá de la tecnología y el desarrollo: ¿cómo podemos concebir soluciones para el "Problema latinoamericano" hoy?
1 de diciembre, 5-6.30 p. m.
Reenlazarnos: la ecología contemporánea a través de las ideas de Juan Downey es la segunda conferencia virtual organizada por el Instituto Cisneros del MoMA como parte de una iniciativa de investigación de tres años sobre las relaciones entre arte y medio ambiente en América Latina.
La conferencia, concebida en colaboración con la curadora invitada Julieta González, toma como punto de partida una serie de cuestiones de orden tecnológico, antropológico y político planteadas entre mediados de los 60s e inicios de los 80s por la obra y los escritos del artista chileno Juan Downey, con el objetivo de generar una discusión sobre el modo en que artistas, teóricos, pensadores feministas, ecologistas y activistas del cambio climático, entre otros, están repensando América Latina en la actualidad.
Desde finales de los años 60, la producción de Juan Downey estuvo guiada por una agenda que buscaba abordar lo que el crítico argentino Jorge Glusberg describía como "el problema latinoamericano" —la situación de dependencia generada por siglos de ocupación colonial y perpetuada por el proyecto moderno de desarrollo. Las obras de Downey Make Chile Rich (Haga Rico a Chile) (1970), The Imperialistic Octopus (El pulpo imperialista) (1972), Anaconda Map of Chile (Anaconda mapa de Chile) (1973) y Chicago Boys (1983), apuntan explícitamente en esa dirección.
En esta sesión, el antropólogo Arturo Escobar hablará de sus influyentes trabajos de investigación y escritos sobre posdesarrollo, epistemologías de base y de los pueblos originarios en América Latina, y sobre los modos relacionales como una alternativa frente al sistema mundial moderno/colonialista/capitalista y su efecto de "desfuturización". Habrá además una conversación entre Escobar y las artistas Minerva Cuevas y Beatriz Santiago Muñoz que girará en torno a una presentación de sus respectivas prácticas como estrategias de resistencia frente a la colonización y el extractivismo.
La sesión en línea será en español. Un video de la sesión con subtítulos en inglés será publicado en nuestra página web en diciembre.
Presentan
Minerva Cuevas nos invita a repensar el rol de las corporaciones en la gestión de los recursos naturales. Sus proyectos interdisciplinarios combinan aspectos de la antropología y de la economía, y analizan la situación del individuo en un régimen capitalista: abuso constante, desalojo y distanciamiento de la identidad ancestral y cultural, pero también de la posibilidad de rebelión implícita en lo cotidiano.
Arturo Escobar es un investigador-activista y académico de Cali, Colombia. Su trabajo se concentra en las luchas territoriales contra el extractivismo, las transiciones posdesarrollistas y poscapitalistas, y el diseño ontológico. Su libro más conocido es La invención del Tercer Mundo: Construcción y deconstrucción del desarrollo (1996). Sus libros más recientes son: Diseños para el pluriverso. La interdependencia radical, la autonomía y la creación de mundos (2016) y Pluriversal Politics: The Real and the Possible (Política pluriversal: lo real y lo posible) (2020).
Beatriz Santiago Muñoz es una artista cuya obra expandida de imágenes en movimiento está conectada con el teatro boaliano, la etnografía experimental y el cine expandido. Generalmente trabaja con actores no profesionales e incorpora improvisaciones al proceso. Su obra reciente se enfoca en el inconsciente sensorial de los movimientos anticoloniales, en los huracanes y el análisis de los sueños, y en lentes de proyección irracional.
Moderadora
Julieta González es una curadora e investigadora que trabaja en la intersección entre la antropología, la cibernética, la arquitectura, el diseño y las artes visuales. Ha escrito varios ensayos, ha organizado dos exposiciones y ha coeditado una monografía sobre la obra de Juan Downey. Recientemente se ha enfocado en desarrollar investigaciones y exposiciones que abordan estéticas decoloniales y del subdesarrollo en América Latina. Ha trabajado como curadora del Tate Modern, Museo Tamayo, Bronx Museum of the Arts y Museu de Arte de Sao Paulo.
The Cisneros Institute's programs are conducted in conjunction with Contemporary and Modern Art Perspectives (C-MAP), MoMA's global research initiative, which is supported by The International Council of The Museum of Modern Art.

Los programas del Instituto Cisneros se llevan a cabo en conjunto con Contemporary and Modern Art Perspectives (C-MAP), la iniciativa de investigación global del MoMA, que cuenta con el apoyo de The International Council of The Museum of Modern Art.