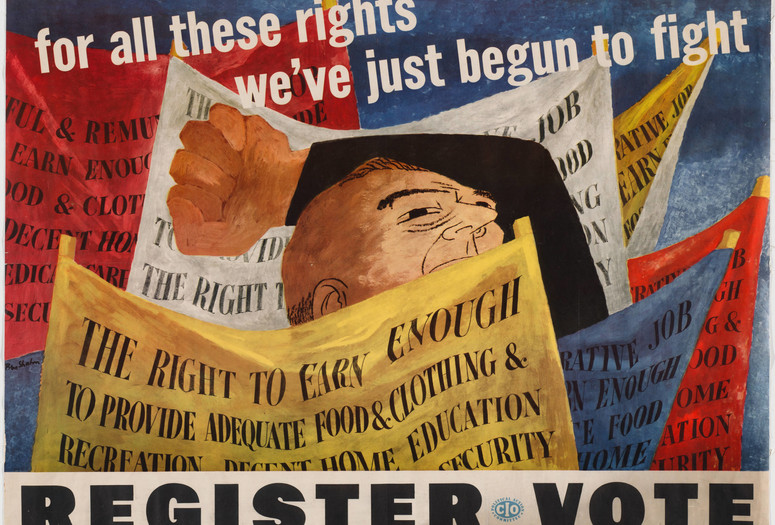 Please join poet/musician Orlando Villarraga, neuroscientist Dr. Sará King, interpersonal neurobiology pioneer Dr. Dan Siegel and The Museum of Modern Art in a 90-minute immersive experience of somatic, auditory, and visual engagement with opportunities throughout to share your insights. Christopher Bailey, Arts and Health Lead at the World Health Organization, will lend his insights to this event. We as a nation are approaching the complexities of an upcoming election, at the same time facing urgent issues around racial justice, climate change, and the ongoing pandemic.
The Art and Science of Hope and Justice invites you into a discussion of the neurobiology of hope, enhanced by contemplative musical immersion and reflective meditations, to highlight the importance of exercising our agency to vote in the November election. Works of art from MoMA's collection will provide points of reflection and inquiry for presenters and participants to connect with throughout this multi sensory experience. We welcome you to engage with us in this integration of science, art, meditation, and music to bring a deeper sense of integrity and wholeness to our sense of life, igniting the power of possibility inside each of us to create a compassionate and supportive society within both our communities and the larger world in which we all live.
The Art and Science of Hope and Justice is part of the Artful Practices for Well-Being initiative at MoMA.
This program is part of The Future Is Unwritten, an initiative from CULTURUNNERS and the World Council of Peoples for the United Nations, launched in 2020 as part of the UN's 75th Anniversary Dialogue Series. Key outcomes of the panel will be incorporated in UN75 reporting to member states, which explore culture's role and value as humanity faces its greatest test since the UN's formation in the aftermath of World War II.
This event will take place on Zoom, a free video-conferencing software platform. Attendees should have access to a computer, smart phone, or tablet with a camera and an internet connection. Attendees may also wish to have some writing materials nearby for capturing thoughts during this event.
Closed captioning will be provided.
Participants
Dr. Sará King is a neuroscientist, medical anthropologist, educator, and meditation instructor. She is a post-doctoral fellow in Neurology at OHSU, a Garrison Institute and Society for Neuroscience fellow, the founder of MindHeart Consulting, and executive director of Peace in Schools, a transformative mindfulness education nonprofit for students and educators. Dr. King also works as a research assistant and consultant with Dr. Dan Siegel through his Mindsight Institute.
Dr. Dan Siegel is a clinical professor of psychiatry at the UCLA School of Medicine and the founding codirector of the Mindfulness Awareness Research Center at UCLA. Dr. Siegel is also the executive director of the Mindsight Institute, medical director of the Lifespan Learning Institute, and on the Advisory Board of the Blue School in New York City. He has published many critically acclaimed and best-selling books, including his most recent, Aware: The Science and Practice of Presence.
Orlando Villarraga is a poet, musician, and visual artist. As an ally to the Teyuna indigenous tribes of Colombia, Villarraga contributes as an interpreter and organizer to help bridge communication of ancient earth-based philosophy to the Western world, and supporting tribal communities in the process of living in a postcolonial society. A cofounder of the Resonance Experience, a group of innovators revealing the power of experiential sound in "refreshing" how we listen to the world, Villarraga's work includes guiding deep personal inquiries in the form of sound meditation. He is currently a fellow of the Garrison Institute.
Christopher Bailey is currently the Arts and Health Lead at the World Health Organization, based in Geneva, Switzerland. The program finds "the art in health and the health in art" by looking at the research agenda of the health benefits of the arts and working at the community and global levels on arts projects that promote health and well-being.