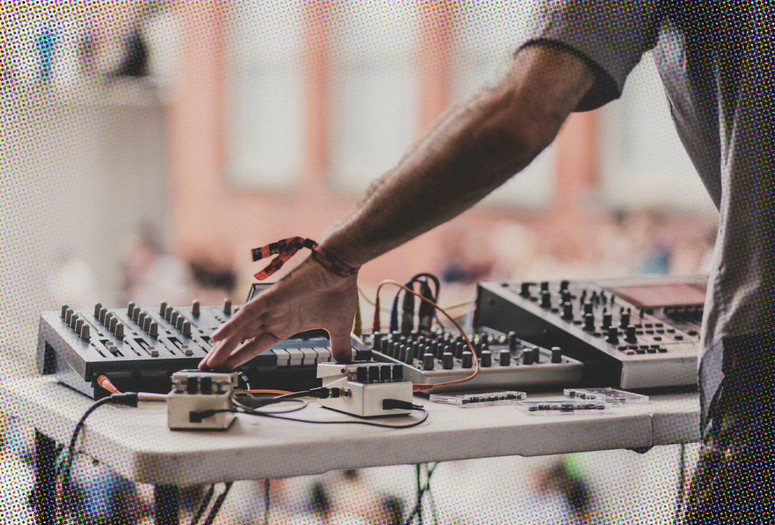 Warm Up wherever you are and celebrate NYC's music communities online and outdoors.
MoMA PS1 presents an all-day streaming edition of Warm Up to support New York City's music communities in light of the COVID-19 pandemic with eight hours of continuous music streamed live from MoMA PS1's iconic courtyard. Tune in for 12 DJ sets and live performances by artists who represent NYC's expansive music community, framed by stage design created by New York-based artist Cécile McLorin Salvant.
LINEUP
Oscar Nñ + Adam R. / Papi Juice / Brooklyn, NY
J.I. / Interscope / Crown Heights, Brooklyn, NY
Chucky73, Dglo73, Fetti031, YoungKilla73 / Sie7etr3 / Bronx, NY
DJ Chill + Jo Vill / St. James Joy / Brooklyn, NY
AceMoMA / HAUS of ALTR / New York, NY
Eartheater / PAN / Queens, NY
Sazón Department (Diego Hauz, Sebastián Maria, Magnolia Polaris, Probablyourdaddy) / Sazón Department / New York, NY
KeiyaA / Forever Recordings / Brooklyn, NY
Barbie Bertisch / Love Injection / New York, NY
Analog Soul / Uzuri + Sublimate / Brooklyn, NY
Disco Tehran / New York, NY + Tehran, Iran
Broadcast globally in partnership with music streaming platform Boiler Room, this one-day-only program will also stream at outdoor music venues across the city, allowing audiences to patronize the open, outdoor cultural spaces in their neighborhoods. These venues include The Rockaway Hotel, Queens Botanical Garden, 99 Scott, Cafe Erzulie, Elsewhere, Ode to Babel, Public Records, and Rise Radio. Please refer to each venue directly for details and reservations, as well as information about their COVID-19 policies.
To help support music spaces and artists across the city that have been devastated by the COVID-19 pandemic, PS1 is teaming up with Red Bull to raise money for NYC Nightlife United, an emergency relief fund focused on supporting BIPOC-owned and led businesses that create safe spaces for BIPOC and LGBTQIA communities. Warm Up audiences will be encouraged to donate to the fund during the program. Through a merchandise program supported by Red Bull, attendees will be able to purchase t-shirts designed by Willie Norris that recycle Warm Up 2018 deadstock designed by artist Andrew Kuo to benefit NYC Nightlife United.
Warm Up 2020 is organized by a curatorial committee led by Taja Cheek, Assistant Curator, MoMA PS1, with Dean Bein (True Panther Records), Isabelia Herrera, Jonas Leon (On-Retainer Agency), Eliza Ryan, Matt Werth (RVNG Intl.), and Naomi Zeichner (YouTube).

Special thanks to Perrier; The Rockaway Hotel, the official hotel sponsor of Warm Up; Red Bull; and the MoMA PS1 Board of Directors.

The stage design initiative for Warm Up 2020 is generously made possible by Perrier.