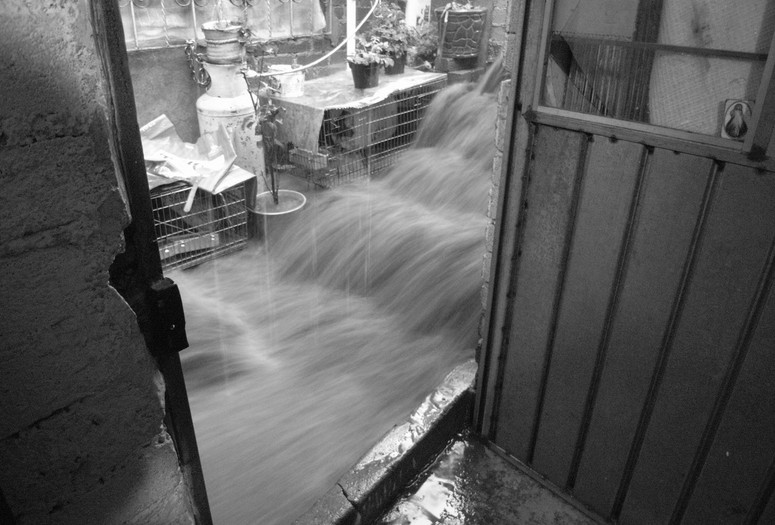 Extractivism is one the main causes of dispossession, exploitation, and even genocide and ecocide of the First Nations of colonized countries. El robo (theft) addresses this issue as seen through the lens of the Brazilian artist María Thereza Alves and scholar Denise Ferreira da Silva. Alves, who has devised an aesthetic research practice that "attempts to document as active agents those who are critically engaged with history," has a longstanding commitment to the community of Mexico's Xico Valley. Prevented from ecologically sustaining themselves, the Xico community's struggle was first staged by Alves in a multimedia installation titled The Return of the Lake (2012), in which the artist elaborated upon a critique of the notion of "post-colonization" by investigating how colonial practices are still very much in place. Ferreira da Silva has written extensively on the ethical questions of the global present, and most recently she has begun experimenting with how to release the world from "the procedures and tools that presume that everything that exists or happens is an expression of the human." Her poethical experiments with the elemental expose how colonial and racial violence is "vital to the accumulation of capital in its various (merchant, industrial and financial) moments." By pointing to the objectification of personhood that leads to ecocrimes, Alves and Ferreira da Silva share a theorizing of racial power and a politico extractivist model that oppresses the Indigenous, Black, and impoverished communities of the Americas.
Speakers
Maria Thereza Alves is a Brazil-born artist, a cofounder of the Green Party of São Paulo, and a former member of the International Indian Treaty Council.
Denise Ferreira da Silva is a Brazilian professor and director of the Social Justice Institute-GRSJ at the University of British Columbia, Canada.
Moderator
Camila Marambio is the founder and artistic director of the collective research practice Ensayos. She has a PhD in curatorial practice from Monash University, Australia, an MA in modern art from Columbia University, and a Master of Experiments in Arts and Politics from Sciences Po, Paris.
The online session will be in English. The video will be posted with Spanish subtitles after September 7.
Cumbre Aconcagua. Segunda parte. El robo
25 de agosto, 12:00–1:00 p.m.
El extractivismo es una de las causas principales del desposeimiento, la explotación y hasta el genocidio y ecocidio de los pueblos originarios de los países colonizados. El robo aborda esta cuestión desde la óptica de la artista brasileña Maria Thereza Alves y la académica Denise Ferreira da Silva. Alves, que ha concebido una práctica de investigación estética que "intenta documentar como agentes activos a quienes están involucrados críticamente con la historia", tiene un compromiso de larga data con la comunidad Valle de Xico en México. La comunidad de Xico se encuentra impedida para autosustentarse ecológicamente. Alves por primera vez puso en escena la lucha de esta comunidad en una instalación multimedia llamada The Return of the Lake (El regreso de un lago) (2012), en la que la artista realizaba una crítica a la noción de "poscolonización" al investigar cómo las prácticas coloniales siguen vigentes. Ferreira da Silva ha escrito extensamente sobre las cuestiones éticas del presente global y recientemente ha empezado a experimentar en torno a la pregunta sobre cómo liberar al mundo de "procedimientos y herramientas que suponen que todo lo que existe o sucede es una expresión del ser humano". Sus experimentos poéticos en torno a los elementos naturales exponen de qué modo la violencia colonial y racial es "vital para la acumulación de capital en sus distintas etapas (mercantil, industrial y financiera)". Al señalar la cosificación de las personas que lleva a los ecocrímenes, Alves y Ferreira da Silva comparten un tratamiento teórico sobre las implicancias raciales del modelo político extractivista, que oprime a las comunidades originarias, Negras y empobrecidas del continente americano.
Presentan
Maria Thereza Alves nació en Brasil, es artista, cofundadora del Partido Verde de San Pablo, y fue miembro del Consejo Internacional de Tratados Indios. por la University of California, Berkeley.
Denise Ferreira da Silva es profesora y directora del Instituto de Justicia Social-IGRSJ (Institute for Gender, Race, Sexuality, and Social Justice; Instituto de Género, Raza, Sexualidad y Justicia Social) de la University of British Columbia.
Modera
Camila Marambio es fundadora y directora artística del programa de investigación colectiva Ensayos. Es doctora en Práctica Curatorial por la Monash University, Australia, magíster en Arte Moderno por la Columbia University y magíster en Experimentos en Arte y Política por Sciences Po, París.
La sesión virtual será en inglés. El video se publicará con subtítulos en español después del 14 de septiembre.
The Cisneros Institute's programs are conducted in conjunction with Contemporary and Modern Art Perspectives (C-MAP), MoMA's global research initiative, which is supported by The International Council of The Museum of Modern Art.

Los programas del Instituto Cisneros se llevan a cabo en conjunto con Contemporary and Modern Art Perspectives (C-MAP), la iniciativa de investigación global del MoMA, que cuenta con el apoyo de The International Council of The Museum of Modern Art.