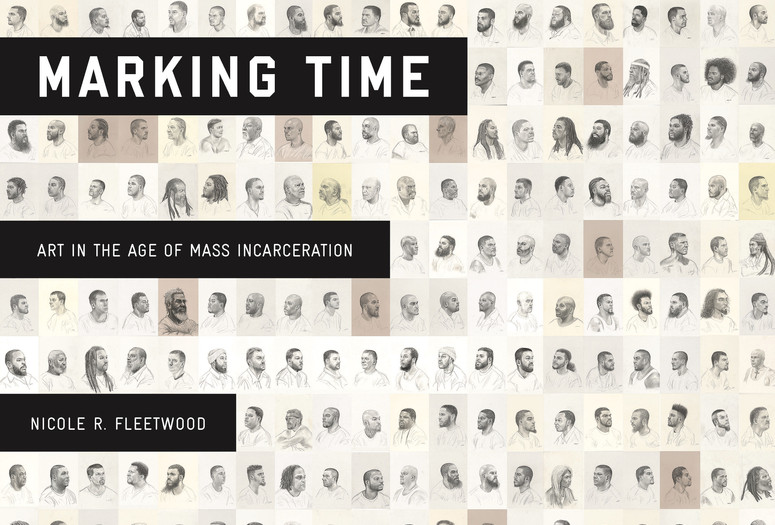 Celebrate the publication of Marking Time: Art in the Age of Mass Incarceration (Harvard University Press) with author Nicole R. Fleetwood, in conversation with poet and scholar Fred Moten and artists Mary Enoch Elizabeth Baxter and Jesse Krimes live on Zoom. Marking Time reflects Fleetwood's decade-long dedication to researching, curating, and archiving the visual art and creative practices of incarcerated artists and art that responds to mass incarceration. Based on interviews with currently and formerly incarcerated artists, prison visits, and the author's own family experiences with the penal system, Marking Time shows how imprisoned artists turn ordinary objects into elaborate works of art. Working with meager supplies and in the harshest conditions—including solitary confinement—these artists find ways to resist the brutality and depravity that prisons engender.
Order Marking Time: Art in the Age of Mass Incarceration from Artbook at MoMA PS1 and support independent bookstores.
Organized in collaboration with Harvard University Press.
About the Speakers
Nicole R. Fleetwood is a writer, curator, and professor of American Studies and Art History at Rutgers University, New Brunswick. She has published two books, Marking Time: Art in the Age of Mass Incarceration (2020), On Racial Icons: Blackness and the Public Imagination (2015), and Troubling Vision: Performance, Visuality, and Blackness (2011). She is co-editor of Aperture magazine's "Prison Nation," a special issue focusing on photography's role in documenting mass incarceration, and co-curator of Aperture's touring exhibition of the same title. Fleetwood has co-curated exhibitions on art and mass incarceration at Andrew Freedman Home, Aperture Foundation, Cleveland Public Library, Zimmerli Art Museum, and the Urban Justice Center. Her work has been supported by the Rockefeller Foundation's Bellagio Center, New York Public Library's Cullman Center for Scholars and Writers, American Council of Learned Societies, Whiting Foundation, Denniston Hill Residency, Schomburg Center for Scholars-in-Residence, Andrew W. Mellon Foundation, and the National Endowment for the Humanities.
Fred Moten works in the Department of Performance Studies at New York University's Tisch School of the Arts. He is author of several books, the most recent of which is All that Beauty. Moten is co-author, with Stefano Harney, of The Undercommons: Fugitive Planning and Black Study and, with Wu Tsang, of Who touched me?. He has also worked with a wide range of artists, arts collectives, and scholars that also includes Arika, Freethought, Renee Gladman, Andrea Geyer, Arthur Jafa, Jennie C. Jones, George Lewis, MPA, Chris Ofili, William Parker, Denise Ferreira da Silva, Ultra-red, James Gordon Williams, Suné Woods and Fernando Zalamea. Moten lives in New York with his partner and long-term intellectual collaborator, Laura Harris, and their children, Julian and Lorenzo.
Mary Enoch Elizabeth Baxter, also known as "Isis Tha Saviour," is a Philadelphia-based, artist and activist who creates socially conscious art, film, and music through an autobiographical lens. Although it's been a decade since her release from a Pennsylvania prison, Mary's time spent on the inside continues to shape the direction of her work. Her poignant works offer a critical perspective on the particular challenges women of color face when they become immersed in the criminal justice system.
Jesse Krimes is a Philadelphia-based artist and curator, and the co-founder of Right of Return USA, the first national fellowship dedicated to supporting formerly incarcerated artists. While serving a six-year prison sentence, Krimes produced and smuggled out numerous bodies of work exploring how contemporary media shapes and reinforces societal mechanisms of power and control. His work has been exhibited at venues including Palais de Tokyo, International Museum of the Red Cross and Red Crescent, Zimmerli Art Museum, and Aperture Gallery, and will be featured in upcoming exhibitions at MoMA PS1 and the Philadelphia Museum of Art. He was awarded an "Artist as Activist" fellowship from The Robert Rauschenberg Foundation, and fellowships from the Independence Foundation, the Vermont Studio Center, the Art For Justice Fund, Captiva Residency, and Creative Capital. His work is a part of the Agnes Gund Collection. In addition to his artistic practice, he successfully led a class-action lawsuit against JPMorgan Chase for their predatory practice of charging people released from federal prison exorbitant fees.