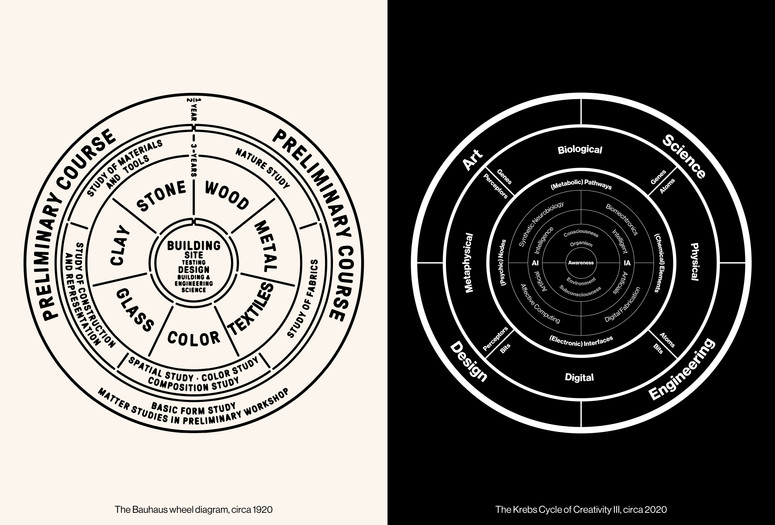 This event has been canceled. We are communicating directly with applicants. Thank you for your patience and understanding.
Art and Practice is a series of seminars and workshops that bring together emerging and experienced artists. Together they explore the challenges and possibilities of sustaining a creative life.
For this session, Neri Oxman will discuss her team's creative process and invite others to share their experiences with the tensions between modes of thinking and making in the bio-digital age.
Oxman will present her Krebs Cycle of Creativity, a framework that considers the domains of art, science, engineering, and design as synergetic forms of thinking; the input from one domain becomes the output of another. Each discipline explains, predicts, utilizes, and informs the world around us, and ultimately the designs we create. Inspired by the Bauhaus curriculum diagram, created in 1922 by Walter Gropius, the Cycle embodies the holistic nature of the Bauhaus education, in which individual creators representing diverse disciplinary backgrounds came together in pursuit of a shared mission to reform art, design, and society.
This program is free, but an application form is required. Once enrollment has been confirmed, each participant will be provided reading material in advance of the session. For more information, please contact [email protected].
This season is organized in conjunction with the exhibition Neri Oxman: Material Ecology.
Designer Neri Oxman is a professor of media arts and sciences at the MIT Media Lab, where she founded and directs the Mediated Matter Group. Her team conducts research at the intersection of computational design, digital fabrication, materials science, and synthetic biology, and applies that knowledge to design across disciplines, media, and scales—from the micro scale to the building scale. Oxman's goal is to augment the relationship between built, natural, and biological environments by employing design principles inspired and engineered by nature, and implementing them in the invention of novel design technologies. Areas of application include architectural design, product design, fashion design, as well as the design of new technologies for digital fabrication and construction. Oxman coined the term, and pioneered the field of, Material Ecology, which considers computation, fabrication, and the material itself as inseparable dimensions of design. In this approach, products and buildings are biologically informed and digitally engineered by, with and for, nature. Oxman's work is included in the collections of The Museum of Modern Art (MoMA), the San Francisco Museum of Modern Art (SFMOMA), Centre Georges Pompidou, the Boston Museum of Fine Arts (MFA), Cooper Hewitt Smithsonian Design Museum, the Smithsonian Institution, the Museum of Applied Arts in Vienna (MAK), the FRAC Collection, and the Boston Museum of Science, among others, along with prestigious private collections.
Volkswagen of America is proud to be MoMA's lead partner of education.

Major support for Adult and Academic Programs is provided by the Estate of Susan Sabel.

Generous funding is provided by endowments established by Agnes Gund and Daniel Shapiro, The Junior Associates of The Museum of Modern Art, Walter and Jeanne Thayer, and by the gifts of Alan Kanzer. Additional support is provided by the Annual Education Fund.