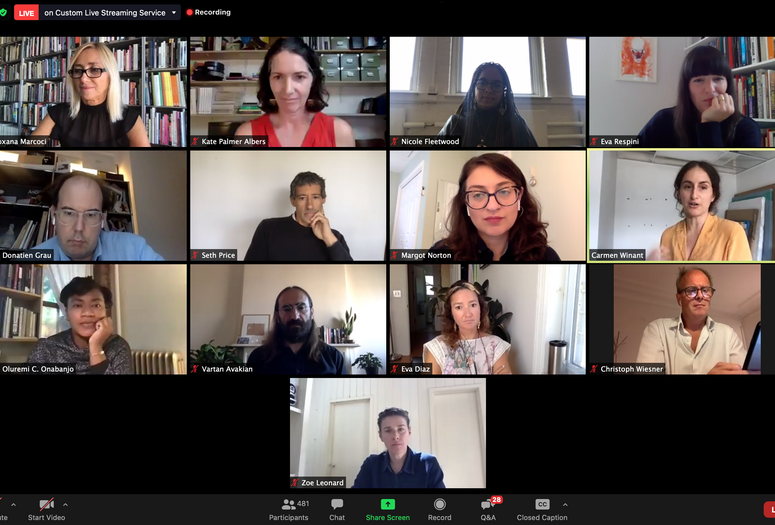 On the occasion of the 10th anniversary edition of the Forums on Contemporary Photography at MoMA, a distinguished group of artists and cultural thinkers will discuss some of the leading issues they see confronting photography in the 2020s.
Featured speakers
Kate Palmer Albers, Associate Professor of Art History, Whittier College
Eva Diaz, Associate Professor, History of Art and Design, Pratt Institute
Nicole Fleetwood, Professor of American Studies and Art History, Rutgers University
Donatien Grau, Head of Contemporary Programs, Musée d'Orsay, Paris
Zoe Leonard, artist
Margot Norton, Curator, New Museum of Contemporary Art
Oluremi C. Onabanjo, curator and scholar of photography and the arts of Africa
Seth Price, artist
Eva Respini, Barbara Lee Chief Curator, Institute of Contemporary Art, Boston
Christoph Wiesner, Director of the Rencontres d'Arles
Kaelen Wilson-Goldie, writer, contributing editor for Bidoun and regular critic for Aperture and Artforum has extended her invitation to Vartan Avakian, Kristine Khouri, and to Yasmine Eid-Sabbagh, Board Members, Arab Image Foundation. Presentation by Vartan Avakian, artist
Carmen Winant, artist
This event is by invitation only and will take place via Zoom.
Cofounded by curators Roxana Marcoci and Eva Respini on February 16, 2010, and conceived as an experimental platform for free-form critical discussions, MoMA's forums on contemporary photography are designed to encourage debate about the perspectives and scope of still and moving images and other forms of picture-making among leading artists, curators, and theorists in the field. The creative process of today is not solitary but dynamic, evolving from countless partnerships. These forums offer an intellectual milieu that values the scholarly reassessment of pivotal ideas in art, innovative practices, and complex and competing visions of modern and contemporary art.
Roxana Marcoci, The David Dechman Senior Curator and Acting Chief Curator of Photography, The Robert B. Menschel Department of Photography, MoMA, begins each session with an introduction to the topic, providing context for the conversation. Four to seven featured speakers then present for five to 10 minutes each. The presentations are followed by a probing, critical Q&A session and a moderated discussion with all the guests.
Read an article about the Forums from Art in America.
The Forums on Contemporary Photography are made possible through the generous support of the Joseph M. Cohen Family Collection.