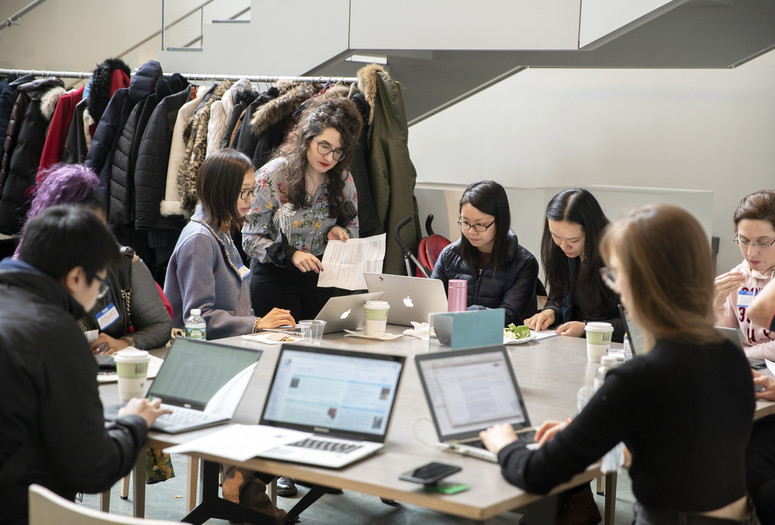 This onsite event has been postponed. If you'd like to participate in our virtual edit-a-thon on Saturday, March 14, we'll have support available via a dedicated Slack channel (#onlineediting) from 10:30 a.m.–4 p.m. EST. Additional resources are available on the Art+Feminism dashboard. Please join us!
Join us for the seventh annual Art + Feminism Wikipedia Edit-a-thon, an all-day communal updating of Wikipedia entries on subjects related to gender, art, and feminism. People of all gender identities and expressions are welcome and encouraged to attend, and no prior Wikipedia editing experience is required.
The day includes several Introduction to Editing Wikipedia training sessions (including one in Spanish), and opportunities to participate in Gallery Experiences, have your photo taken at the Wikimedia Photobooth hosted by Black Lunch Table, join communal editing tables hosted by AfroCROWD, POWarts, and Wiki Loves Pride, and enjoy complimentary lunch and refreshments at the end-of-day reception.
The day concludes with a panel discussion exploring the 2020 theme Art + Activism, featuring Carolyn Lazard, artist, and Betty Yu, artist and cofounder of Chinatown Art Brigade. The conversation will be moderated by Michelle Millar Fisher, Ronald C. and Anita L. Wornick Curator of Contemporary Decorative Arts at the Museum of Fine Arts, Boston, and cofounder of Art + Museum Transparency.
You are welcome to come for the full day or drop by for whatever time you have. If you can't attend in person, we encourage you to participate by editing from wherever you are.
Please bring a laptop, power cord, and ideas for entries that need updating or creation, as well as a reusable water bottle to help reduce waste. Library reference materials, loaner laptops, and complimentary refreshments will be available.
This event is free and open to the public, but we strongly urge you to RSVP to reserve your spot.
Accessibility
CART captioning will be available during the Introduction to Editing session at 2:30 p.m. and the panel discussion at 4:00 p.m. A limited number of assisted listening devices are available for these sessions, with advance request.

American Sign Language (ASL) interpretation is available for all public programs with at least three weeks advance notice. Please contact [email protected] to schedule these accommodations.

This theater is equipped with an induction loop that transmits directly to hearing aids with T-coils.
For accessibility questions or accommodations please email [email protected]. Please request accessibility accommodations by March 1.
Free childcare is provided from 12:00 to 5:00 p.m., but please contact [email protected] to pre-register by March 12.
Schedule
10:00 a.m. Coffee
10:30 a.m. Welcome and Introduction to Editing Wikipedia (in English)
11:30 a.m. Library and Archives open and editing begins
12:00–2:00 p.m. Complimentary lunch available
12:00–3:00 p.m. Structured communal editing of Howardena Pindell's Wikipedia article
12:00–4:00 p.m. Communal table editing hosted by Afrocrowd, Wiki Loves Pride, POWArts
12:00–5:00 p.m. Complimentary childcare
12:00–6:00 p.m. Wikimedia photobooth hosted by Black Lunch Table
12:30 p.m. Introduction to Editing Wikipedia (in Spanish)
1:00 p.m. Queer Art and Activism - Gallery experience led by Ace Lehner
1:30 p.m. Introduction to Wiki Commons (in English)
2:30 p.m. Introduction to Editing Wikipedia (in English with CART captioning)
3:00 p.m. Feminism and Photography - Gallery Experience led by Ace Lehner
4:00 p.m. Panel discussion on Art and Activism (in English with CART captioning)
5:00 p.m. Reception
The Art + Feminism Wikipedia Edit-a-thon at The Museum of Modern Art is supported by the Modern Women's Fund.

The Art + Feminism initiative is made possible by the Wikimedia Foundation.

Volkswagen of America is proud to be MoMA's lead partner of education.