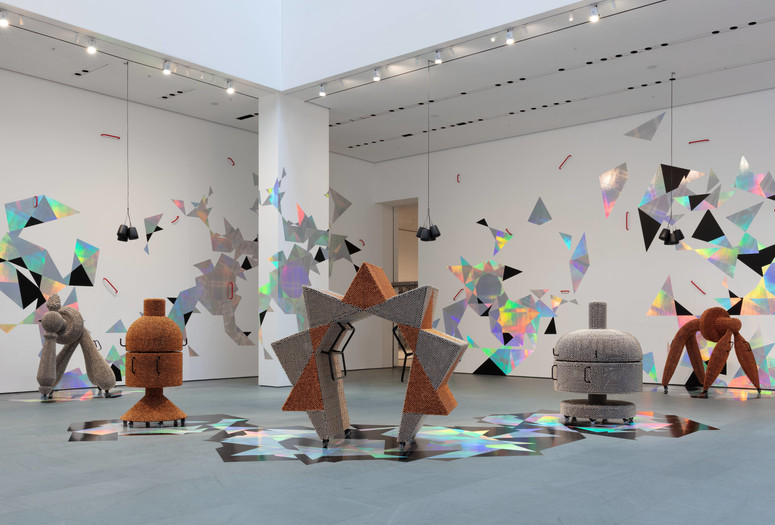 Immerse yourself in artist Haegue Yang's shimmering multimedia installation, Handles, during an intimate evening of sound and performance with cellist, composer, and improviser Okkyung Lee. Drawing inspiration from diverse and seemingly dissonant sources that span both time and place, Yang's installation is a playful take on the manifold meanings of "handle"; her dual reference—to that which is grasped by the hand and to the act of touching and maneuvering—sets a fitting stage for Lee's own experimental, reactive handling of the cello and digital soundscapes. Accompanied by the choreographed activation of Yang's installation, Lee's performance enhances your experience of the Museum's Marron Atrium as a dynamic space, as it comes alive as never before.
An open-bar reception with a bold, playful DJ set by Brooklyn-based Laenz will follow.
Cellist Okkyung Lee, originally from South Korea, has lived in New York since 2000. She works in a number of different contexts, both as a solo artist and as a collaborator with creators across genres. Lee harnesses a broad array of aural inspirations—including avant-garde noise, improvisation, jazz, Western classical, and the traditional and popular music of her homeland—to forge an entirely original approach to composing and playing that pushes contemporary cello performance into previously uncharted territories.
Laenz is a producer, DJ, and video artist who likens unpredictability to the desired blueprint of the dancefloor ecosystem. With the intent to build sets predicated by incidental emotion, her selections are often playful and multisensory, marrying her contrasting love for both avant-pop and experimental club.
This special presentation of Haegue Yang's Handles features performance facilitators Ayano Elson, Jessie Gold, Honey Jernquist, Delaney McDonough, and Alex Romania, with choreographic assistance by Jessie Gold.
Doors will open at 7:45 p.m. and the performance will begin promptly at 8:00 p.m. Admission includes open bar, performance, DJ set, and after-hours access to Handles.
Tickets ($25) are available online.
You must be 21 or older to attend this event. Please enter through The Ronald S. and Jo Carole Lauder Building entrance at 11 West 53 Street.
Haegue Yang's Handles is activated during First Thursdays on March 5th and April 2nd.
PopRally is a series of events at The Museum of Modern Art and MoMA PS1 that serve as a gateway for young and diverse audiences to engage with MoMA. Led by a cross-departmental committee of Museum staff, PopRally produces dynamic programs including artist collaborations, performances, film screenings, and digital content that encourage new and experimental ways of encountering modern and contemporary art.