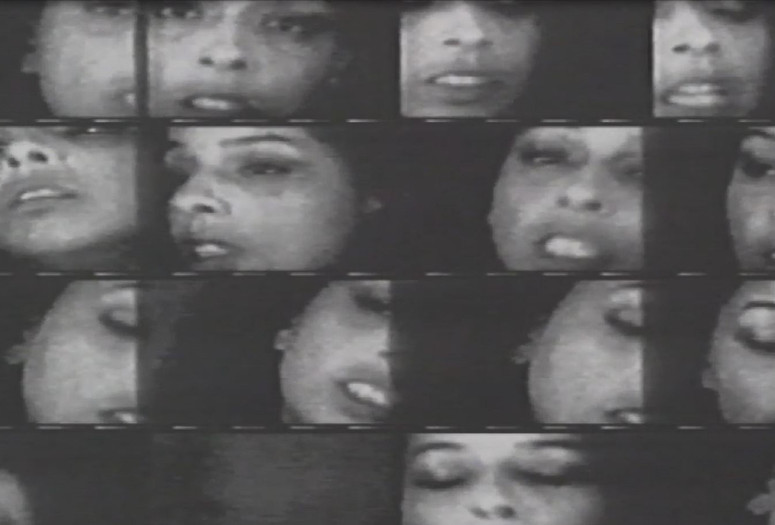 Thulani (Workprint). 1984. USA. Directed by and performed by Thulani Davis. Digital projection. 11 min.
Among her archives, Thulani Davis uncovered this never-before-shown workprint of Doris Chase's 1984 video Thulani, a radical departure cut taken from different poems and without backing orchestration. It forms an unforgettable, stripped-down complement to Chase's more psychedelic final version.
Pull Your Head to the Moon: Stories of Creole Women. 1992. USA. Directed by Ayoka Chenzira. Written and choreographed by David Rousseve. Digital projection. 13 min.
A young man who underestimates his grandmother's ability to understand his pain discovers her experiences of loss in a story told through memory, dance, and reenactment.
Picking Tribes. 1988. USA. Directed by Pearl Sharp. 16mm. 7 min.
This charming, heartfelt animation uses vintage photographs and Carlos Spivey's vibrant watercolor images to create a vignette about a girl's search for identity as she honors ancestral connections within her African American and Native American heritages.
The Body Beautiful. 1991. Great Britain. Directed by Ngozi Onwurah. With Madge Onwurah, Sian Martin. 16mm. 24 min.
A love letter from daughter to mother, this tender memoir explores racial and sexual identity, memory, and fantasy. Onwurah revisits her own life, plumbing the emotional depths of the relationship between a young mixed-race woman and her white mother, a breast cancer survivor who has undergone a mastectomy.
Baño Sagrado. 1991. USA. Directed by María Magdalena Campos-Pons. Sound by Neil Leonard. Digital projection. In English, Spanish. 31 min.
A meditation on the healing benefits of a ritual sacred bath, expressed through experimental performance, indelible imagery, and anonymous African poems.
Thulani. 1984. USA. Directed by Doris Chase. Performed by Thulani Davis. 9 min.
This collaboration between video artist Doris Chase and author Thulani Davis expands and explodes Davis's live performances at the Kitchen, where she breathed life into her fragmentary poems (culled from everyday conversations) with the backing of avant-garde jazz composer Anthony Davis. "If the world goes to hell all at once," Davis riffs, "we still go one by one...."
Program approx. 93 min.