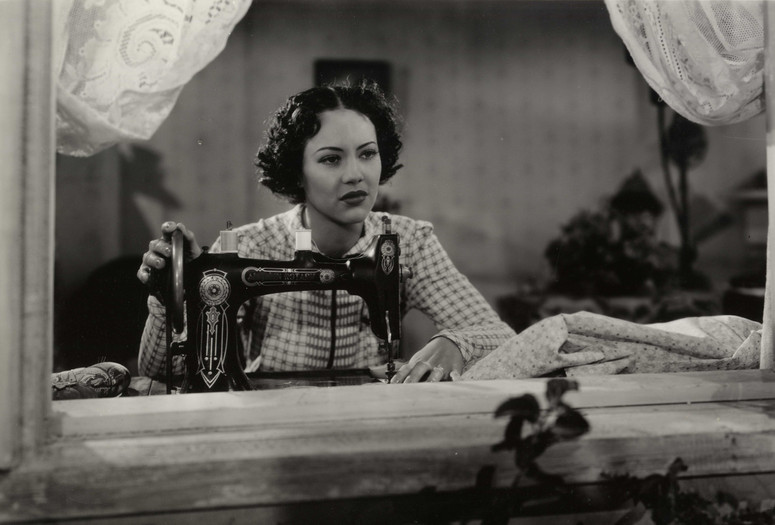 Black and Tan Fantasy. 1929. USA. Directed by Dudley Murphy. With Fredi Washington, Duke Ellington. 16mm. 17 min.
In her first film role, Fredi Washington stars as a performer who saves the day for a pianist (Duke Ellington) whose instrument is about to be repossessed. Despite her heart condition, Fredi insists she is capable of making it through that night's show so they can bring in enough money to keep the piano. A feverish dance number culminating in a sublime finale announced Washington as both a dazzling entertainer and a compelling dramatic actor.
One Mile from Heaven. 1937. USA. Directed by Allan Dwan. With Fredi Washington, Claire Trevor, Bill Robinson, Joan Carroll. 35mm. 67 min.
Feisty news reporter Lucy "Tex" Warren (Claire Trevor) travels to the black neighborhood of Maple Heights after being tipped off to a sensational story. When she arrives to discover she was sent on a wild goose chase by her competitive male colleagues, she encounters Flora Jackson (Fredi Washington), an African American woman who claims to be the mother of Sunny, an extremely light-skinned child. Relentless in her belief that Flora isn't Sunny's biological mother, Tex goes to great lengths to pursue an investigation. Though Trevor received top billing, Washington's stirring performance is at the film's center, transmitting the plight of a woman whose life is unfairly upended by the media's ruthlessness. Simultaneously, the role afforded Washington the opportunity to play a steadfast, dignified, and independent woman unburdened by stereotypes—a characterization rarely offered to black women by studios at the time. Southern distributors protested the film which, though still riddled with the flaws of its time, poignantly unravels the indefensible logic of segregation. The film industry's obsessive anxiety over Washington's fair skin plagued her career, to the extent that producers forced her to reshoot romantic scenes with Paul Robeson in The Emperor Jones with her body painted several shades darker so as to not unsettle white audiences with their pairing. But Washington was outspoken about her pride as a black woman and it's plausible that her racial militancy also caused studios to back away from her. Though One Mile from Heaven was her last screen appearance, Washington continued to be a committed theater actor and activist, cofounding the Negro Actors Guild a year after the film's release.
Special thanks to Stephany Kim, Twentieth Century Fox