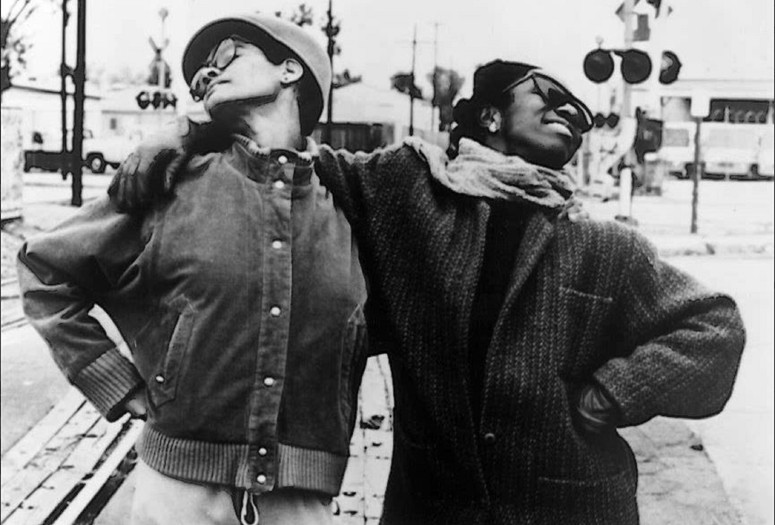 And Still I Rise. 1993. Great Britain. Directed by Ngozi Onwurah. With Suzette Llewellyn, Buchi Emecheta, Stella Dadzie, Caron Wheeler. 16mm. 30 min.
Mixing interviews with academics and artists, Onwurah's documentary, an unsparing dissection of British mass culture's love-hate relationship with Black sexuality in the 1980s, traces both fear and fetishization back to the colonial past.
Your Children Come Back to You. 1979. USA. Directed by Alile Sharon Larkin. With Angela Burnett, Patricia Bentley King , Simi Nelson. 16mm. 30 min.
Alongside Billy Woodberry and Charles Burnett (who serves as cinematographer on this film), Alile Sharon Larkin was a pioneering member of the filmmaking movement now referred to as the LA Rebellion. This work provides a raw, revelatory glimpse of a single mother making ends meet, as seen through the eyes of her precocious daughter.
Cycles. 1989. USA. Directed by Zeinabu irene Davis. With Stephanie Ingram. 16mm. 17 min.
Blending stop-motion animation, live action, and African and diaspora spirituality and folklore, this short opens a sultry, playful window into the day of a young woman anticipating her period.
The Potluck and the Passion. 1993. USA. Directed by Cheryl Dunye. With Dunye, Jen Benoit, Shelita Birchett, Pat Branch, Nora Breen, Chris Daniels. Digital projection. 17 min.
Race, sexuality, and politics are all up for conversation in this experimental melodrama, which invites the viewer to sit in as a guest at a lesbian couple's one-year anniversary potluck. As the party progresses, drama ensues and, in classic Dunye fashion, the characters direct their comedic reactions straight to camera.
Killing Time. 1979. USA. Directed by Fronza Woods. Digital projection. 9 min.
This indelible, darkly comic short follows a woman (credited as "Sage Brush") as she runs afoul of obstacles while planning her own suicide.
Fannie's Film. 1981. USA. Directed by Fronza Woods. Digital projection. 15 min.
Drolly challenging the art world's disinterest in the lives of working-class black people, this documentary short profiles Fannie Dayton, an elderly woman who insists on staying financially independent from her beloved husband while making a living cleaning the studio of a Manhattan dance company.
Program approx. 116 min.