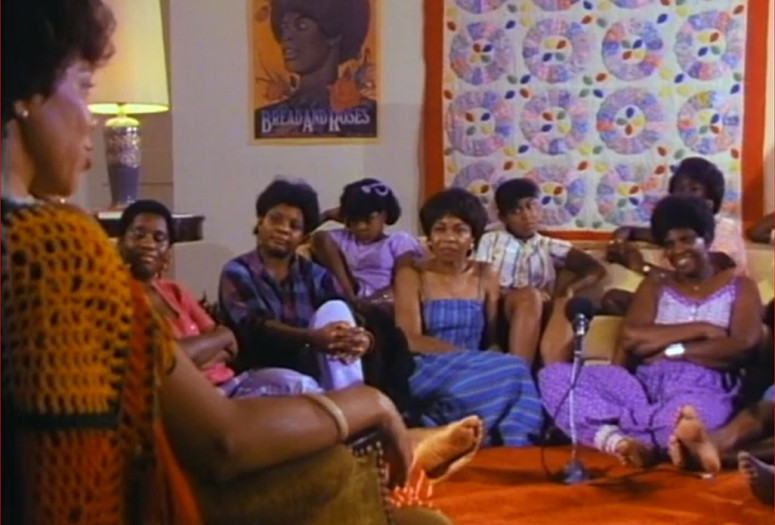 Hair Piece: A Film for Nappyheaded People. 1984. USA. Directed by Ayoka Chenzira. Narrated by Carol-Jean Lewis. Still photography by Ann Chapman. 16mm. 10 min.
Originally a stand-up comedy piece, this riotous, insightful satire uses animation and collage to convey the self-image predicaments black women experience when pressured to conform to Eurocentric beauty standards.
On Becoming a Woman: Mothers and Daughters Talking Together. 1987. USA. Directed by Cheryl Chisolm. With animation by Ayoka Chenzira. 16mm. 90 min.
Through candid conversations filled with humor and sensitivity, this documentary produced by the National Black Women's Health Project thoroughly fulfills its declared vision of individual and group empowerment by "actively promoting the physical, spiritual, mental and emotional wellness of this and future generations." Filmed during multiple workshops for mothers and teenage daughters that covered topics including menstruation, sexuality, and self-acceptance, On Becoming a Woman succeeds not only as an educational resource but as a record of breathtaking intimacy. Communication unfolds with increasing trust as inter-generational women exchange stories about their most personal experiences seemingly for the first time. Their heroic vulnerability is captured by an attentively roving camera which, in spite of being bound to a single room, reveals an expansive range of dynamics and emotions.