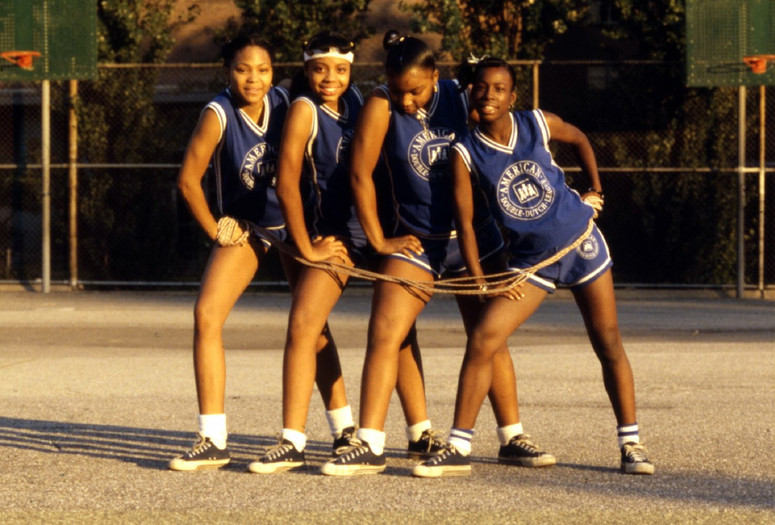 La petite vendeuse de soleil (The Little Girl who Sold the Sun). 1999. Senegal. Directed by Djibril Diop Mambéty. With Lissa Balera. 35mm. In French, Wolof; English subtitles. 45 min.
Brave and determined Sili Laam, vibrantly portrayed by then 12-year-old Senegalese actor Lissa Balera, sells the Sun newspaper, a job usually undertaken by the local boys, to help support her family. She succeeds, unhindered by a dependence on crutches, upsetting the boys who threaten her and wish for her failure, and shining in the face of their opposition. This love letter to Dakar's street children, the second installment in an unfinished trilogy of dramatic shorts titled Tales of Ordinary People, was the final film made by celebrated director Djibril Diop Mambéty. Special thanks to Metrograph Pictures.
Pick Up Your Feet: The Double Dutch Show. 1981. USA. Directed by Skip Blumberg. With the Fantastic Four, Double Dutch Tigers, Jumping Joints. Digital projection. 28 min.
Shot and edited by prolific video pioneer Skip Blumberg, Pick Up Your Feet is a spunky, riveting document of the World Invitational Double Dutch Championship for junior-high schoolers, held at Lincoln Center in 1981. Blumberg's interviews with the African American jump-ropers and their parents detail the pressures and pitfalls of athletic success in Koch-era New York. From endless practice drills through the final showdown, the documentary assumes the character of an Olympian drama, with milliseconds making the difference between bitter defeat and eternal victory.