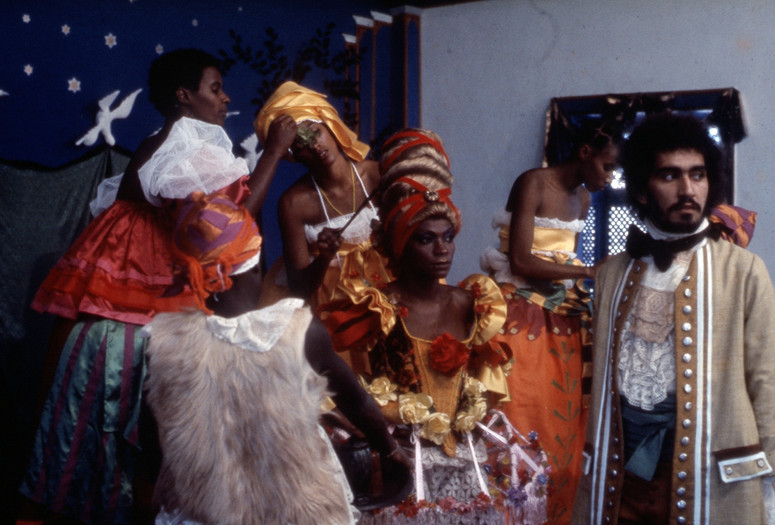 Nice Coloured Girls. 1987. Australia. Directed by Tracey Moffatt. With Gayle Mabo, Cheryl Pitt, Janelle Court, Fiona George. 16mm. 16 min.
Through allegory, experimental techniques, and a witty use of voice-over, artist Tracey Moffat subverts the colonial gaze in this short about three young Australian Aboriginal women out on the town with a "captain."
Xica da Silva. 1976. Brazil. Directed by Carlos Diegues. With Zezé Motta, Walmor Chagas, Altair Lima, Elke Wonder, Stepan Nercessian, Rodolfo Arena, Jose Wilker. 35mm. In Portuguese; English subtitles. 107 min.
Renowned singer and actor Zezé Motta became Brazilian cinema's first black female lead in the breakout role of Xica. Based on the life of the legendary Francisca da Silva, Xica da Silva offers a controversial but celebrated account of the pivotal transition in her life from slave to one of the richest Brazilians of the 18th century. Among Cinema Novo pioneer Carlos Diegues's most successful films, it imagines Xica's unprecedented rise, the historical record of which was largely destroyed by her townspeople who burned documents related to her. Made during the most difficult period of military rule in Brazil, this contentious sendup of colonialism drew audiences of millions upon its release, while it attracted criticism for its portrayal of Xica as a sexual being. Diegues and Motta bring to life a complex character who, understanding her perceived value to be solely as a physical object, cleverly exploits her appeal to orchestrate her sale to a Portuguese diamond miner she believes will grant her freedom. Both Xica's fearlessness and her missteps are vividly rendered, as the film navigates her newly gained power and assimilation into white society.