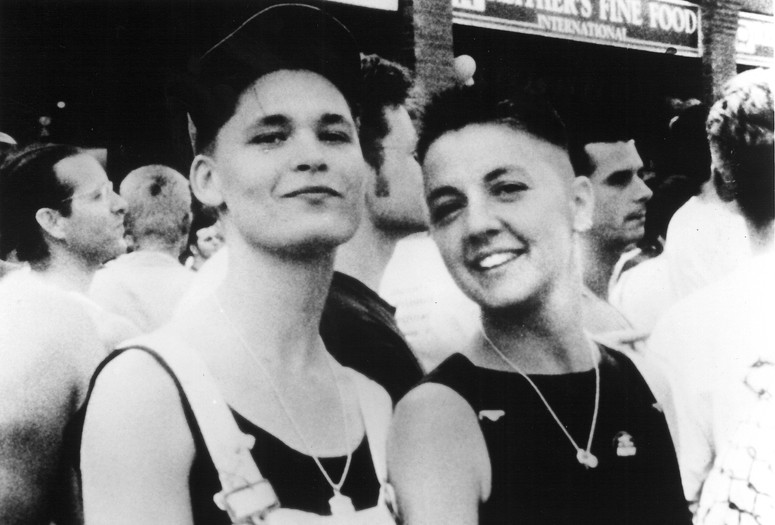 Doctors, Liars, and Women: AIDS Activists Say No to Cosmo. 1988. USA. Directed by Jean Carlomusto, Maria Maggenti. Digital projection. Digital preservation courtesy of the filmmaker. 23 min.
This spectacular David and Goliath story unfolds on the streets of New York, as the first action of the Women's Committee in ACT UP takes on Cosmopolitan magazine. In January of 1988 Cosmo published a dangerously misleading article on the transmission of AIDS for women. Written by psychiatrist Robert E. Gould, the article claimed that, "There is almost no danger of contracting AIDS through ordinary sexual [heterosexual] intercourse." Jean Carlomusto documents the women who stood up to the mammoth magazine conglomerate and questioned Dr. Gould and his qualifications with perseverance, dedication, and bravery.
Thank God I'm a Lesbian. 1992. USA. Directed by Laurie Colbert, Dominique Cardona. 16mm. 56 min.
In an effusive, insightful counterpart to Jean Carlomusto's frontline activism, Laurie Colbert and Dominique Cardona create space for lesbians to tell their own story with the exuberant Thank God I'm a Lesbian. The history, theory, and politics that Colbert and Cardona's subjects describe are as vast and varied as their identities: they speak about racism, sadomasochism, the practice of outing, the feminist movement, and tomes of other subjects that springboard from their personal experiences. In quick succession, we're introduced to extraordinary lesbian heroines including poets Dionne Brand and Nicole Brossard, pianist and composer Lee Pui Ming, sociologist and theorist Christine Delphy, and even a shimmering interview with novelist, playwright, and historian Sarah Schulman. Colbert and Cardona deftly calculate the complexities of the subjects these women speak about, relying on their collective lived experiences to form a community full of academic, emotional, and ultimately joyous stories.