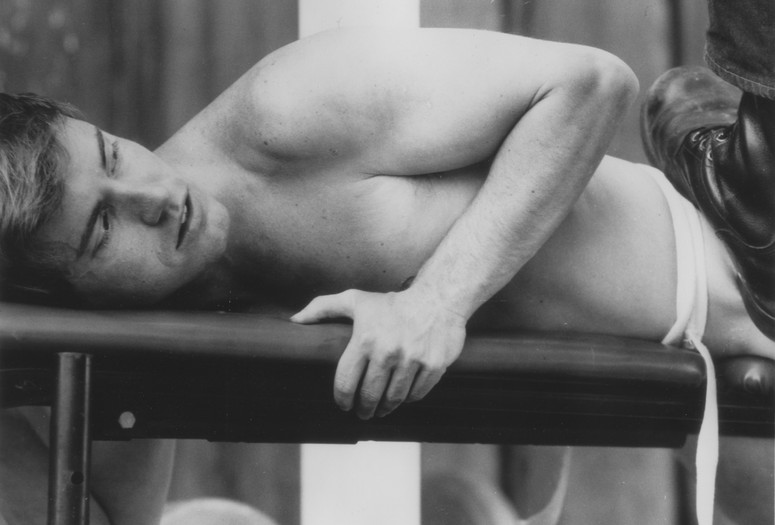 Sextool. 1975. USA. Directed by Fred Halsted. Digital projection. 80 min.
One of the most ambitious and least successful pornographic films ever made, *Sextool*'s production history is rife with nearly as much expurgated desire as the film itself. Funded on the success of L.A. Plays Itself, Halsted's next major feature was designed to be a crossover success in the arthouse market. Halsted shot much of the film on expired 35mm stock in hopes of securing a wider release, but the film was quickly deemed unviable by the art-film market. The Hollywood Reporter homophobically and horrifically categorized it as "cruel, terrorizing…the kind of film one can imagine Nazi concentration camp commanders commission for their jaded amusement." Forty years later, the film plays as an astonishingly progressive broadcast from an era of deeply ingrained musculature. Halsted viewed the film as sexually political; he establishes visual dialogue between intense BDSM sequences (including some with his lover, Joe Yale) and trans women and drag queens at an upscale party. William Moritz, writing in Entertainment West, astutely observes the nuances in Halsted's vision: "The heterosexual, middle-class concepts of marriage and morality that have been foisted upon gays by society are ruptured and banished. The performers are not sex 'objects' like the women in straight gigs, to be used and dropped, but rather sex 'tools,' instruments to play out fantasies, implements to realize dreams."
Presented in a new 4K preservation reconstructed from MoMA's archival 35mm print. The feature will also be preceded by the original 16mm trailer.
Please be advised: Sextool contains explicit sexual content.