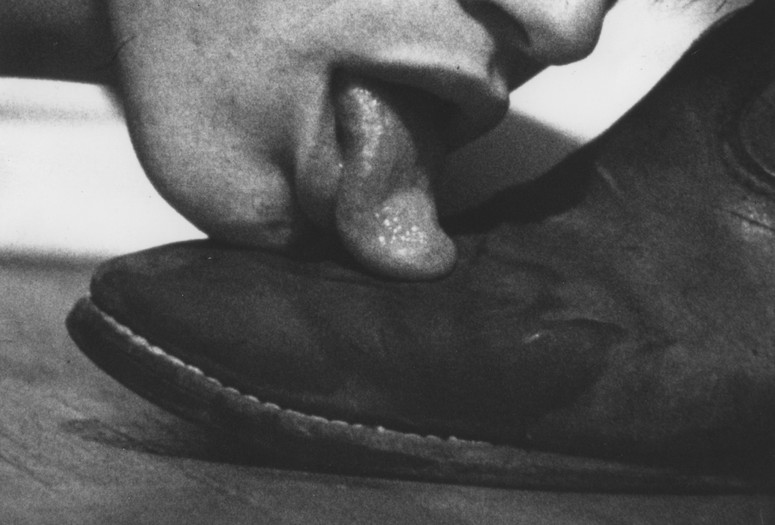 The Sex Garage. 1972. USA. Directed by Fred Halsted. Digital projection. 35 min.
L.A. Plays Itself has historically been paired with Fred Halsted's The Sex Garage, also from 1972. Grittily shot in black and white, the film follows a progression of erotic imagery, from heterosexual sex to homosexual sex to fetishization, culminating with a leather biker memorably coupling with the exhaust pipe of his motorcycle. The Sex Garage was a very early instance of bisexuality (or "trisexuality" in Halsted's words) infiltrating gay pornography, a remarkable transgression that Halsted aggressively pushed. The film also dallies with gender expectations, as a pair of panties becomes a signifier in a traditionally hypermasculine tableau.
L.A. Plays Itself. 1972. USA. Directed by Fred Halsted. Digital projection. 51 min.
"Your intestines are about twenty feet long. Sometimes your hand can come up almost to the heart and you can feel it beating… It's as though you can feel their very life. You have a man's life in your hand." – Fred Halsted, I'm Open to Anything by William E. Jones
For the first time in cinema history, Fred Halsted would depict a man being fisted on screen. It serves as the film's literal and figurative climax, but it couldn't be farther from *L.A. Plays Itself*'s opening images at the Los Angeles city limits sign. Halsted's elliptical, evasive anti-narrative begins in the lush greenery of the natural world before being literally bulldozed into the center of a grimy, feverish Sodom that deconstructs and erodes the human spirit through vivid sadomasochistic catharsis. Constructed almost entirely in the editing room, Halsted's film is a dream-porn masterwork that would be analyzed, criminalized, and investigated for decades to come. Presented in new 4K preservations of both films, reconstructed from MoMA's archival 16mm prints.
Please be advised: The Sex Garage and L.A. Plays Itself contain explicit sexual content.