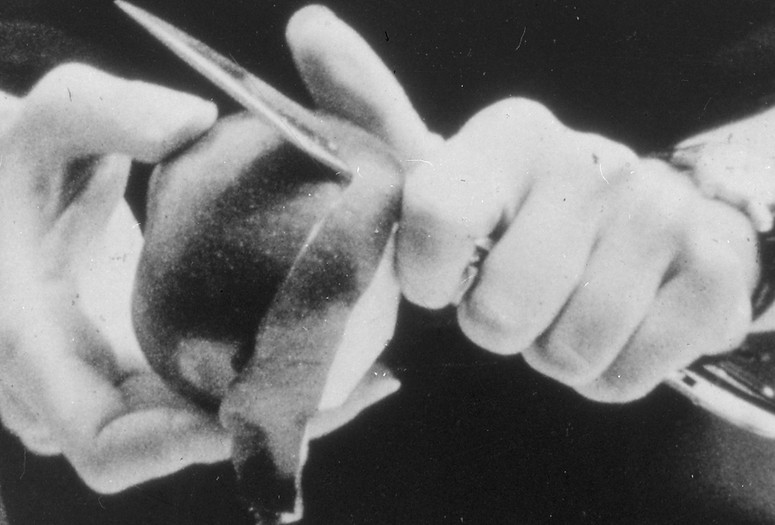 Barbara Hammer's surreal, joyous Moon Goddess features Gloria Churchman as a spiritual guide through stout Mendocino forests and spectacular Death Valley horizons. Churchman, 11 years Hammer's senior, presents her young protégé's camera with an instructive, revelatory vision of creative inspiration. Just a few years later, a young lesbian filmmaker, Su Friedrich, announced herself with the vivid Cool Hands, Warm Heart, a pointed critique of voyeurism and spectacle in which women perform traditionally private routines on public stages in crowded streets, only to be interrupted by an unnamed woman who forces them, and herself, to confront the violence inherent to their actions. Sanctus, Hammer's visually astonishing revisitation of the filmic X-ray work of Dr. James Sibley Watson, depicts the body in quick flashes of fragility. By 1990, AIDS had deeply affected Hammer's inner circle. The film's exultant soundtrack suggests canonization, both for Dr. Watson's subjects (mostly women who were unaware of the implications of his experiments and the consequential effects of their radiation) and Hammer's dearest friends. First Comes Love, a very early and vital work for the marriage equality movement, intersperses footage from heterosexual weddings with a seemingly endless list of countries in which same-sex marriage is outlawed—a list that would be very nearly identical almost 30 years later. In a 2018 interview with Barbara Hammer, feminist theorist Alexandra Juhasz states, "If we imagine a pairing of your [Hammer's] power with youth's imagination, that's truly spectacular." Program 68 min.
Moon Goddess. 1975. USA. Directed by Barbara Hammer. 16mm. 13 min.
Cool Hands, Warm Heart. 1979. USA. Directed by Su Friedrich. 16mm. 16 min.
Sanctus. 1990. USA. Directed by Barbara Hammer. 16mm. 18 min.
First Comes Love. 1991. USA. Directed by Su Friedrich. 16mm. 21 min.