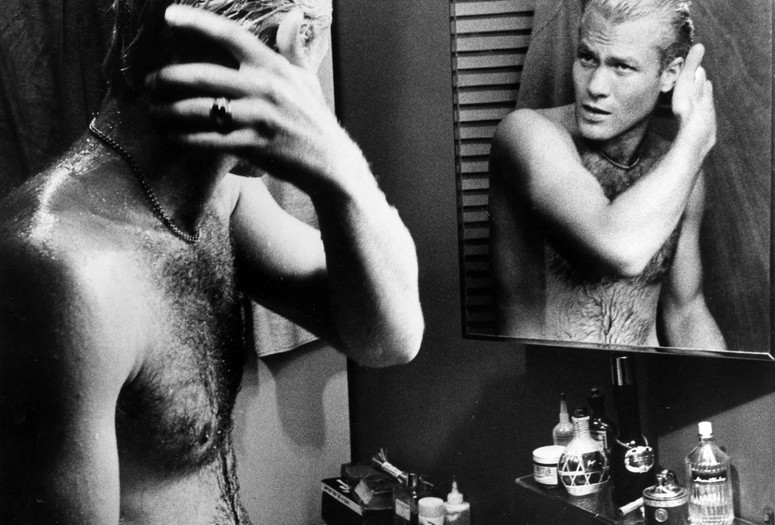 Set to a rollicking soundtrack in a sordid Manhattan apartment, Warren Sonbert's Amphetamine takes us from one to a hundred in seconds. Inspired by Warhol and his prodigies, the first half of the film is chock-full of graphic images of intravenous drug use, while the second half takes a hard left turn into something even more dangerous, blood-pumping, and joyous. Warhol himself presides over the diatribes of My Hustler, in which Ed Hood lusts after and loathes superstar Paul America. Warhol's camera remains voyeuristic at all times, darting between its subjects like a nervous eyeball. Kenneth Anger ratchets up the testosterone in the sumptuous Kustom Kar Kommandos, ogling *The Wild One*–era Brando hunks as they polish the pistons on a black hot rod set against a raspberry backdrop. The wrongfully underseen Renaissance man Avery Willard follows Anger's images to their logical conclusion in Leather Narcissus, in which a head-to-toe leather-man parades around New York and becomes trapped in a Times Square haunt with a particularly seductive motorbike and floor-to-ceiling mirrors. The leather-man then emulates his namesake Greek myth by shagging himself, thanks to Willard's glorious optical-printing trickery. Special thanks to Jon Gartenberg. Program 117 min.
Amphetamine. 1966. USA. Directed by Warren Sonbert. 16mm. 10 min.
My Hustler. 1965. USA. Directed by Andy Warhol. 16mm. 76 min.
Kustom Kar Kommandos. 1965. USA. Directed by Kenneth Anger. 16mm. 3 min.
Leather Narcissus. 1968. USA. Directed by Avery Willard. 16mm. 28 min.
Please be advised: Leather Narcissus contains explicit sexual content.