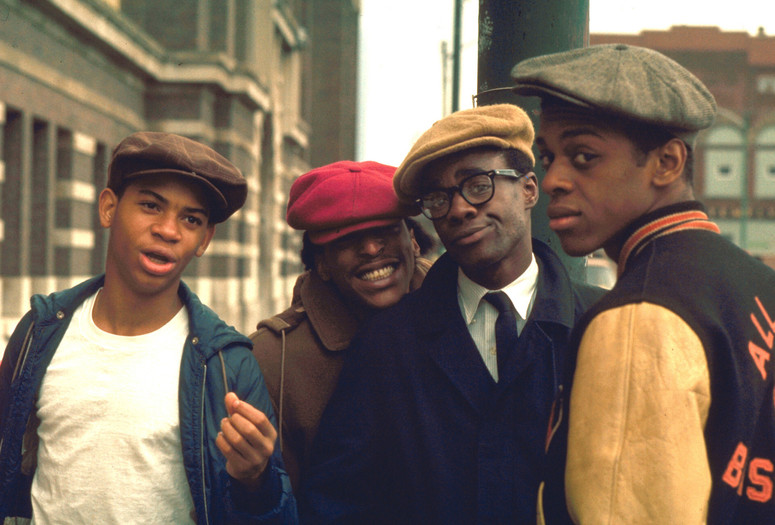 Les mistons (The Mischief Makers). 1957. France. Written and directed by François Truffaut. With Gérard Blain, Bernadette Lafont, Michel François. 35mm. In French; English subtitles. 18 min.
A frequent fixture of Francois Truffaut's oeuvre is the plight of the boy and young man, and his second short film is no exception. A band of boys, the titular mischief-makers, are enamored with Bernadette, a friend's teenage sister, as she gracefully goes about her summer days, meeting with her boyfriend. Stylistically daring and an indicator of the strong works to come from Truffaut, Les mistons may focus primarily on the bratty boys, but the true heart of the film is Bernadette and her formative summer romance.
Cooley High. 1975. USA. Directed by Michael Schultz. Screenplay by Eric Monte. With Glynn Turman, Lawrence-Hilton Jacobs, Garrett Morris. 35mm. Courtesy Park Circus. 107 min.
In 1964, on the North Side of Chicago, aspiring screenwriter Preach (Glynn Turman) and varsity basketball star Cochise (Lawrence-Hilton Jacobs) are rounding out their final weeks of high school by skipping class, crashing parties, and trying to impress women. Monte's script is humorous and devastating in equal measure, as Preach and Cochise eventually face an encounter with the police after a seemingly innocent joyride with classmates. In the run-up to significantly turbulent years of the civil rights movement, life after graduation—not to mention mid-century America—is about to drastically change. As J. Hoberman wrote in the New York Times, "The kids of Cooley High are facing a far more drastic upheaval than the loss of teenage innocence; the movie knows it even if they don't."