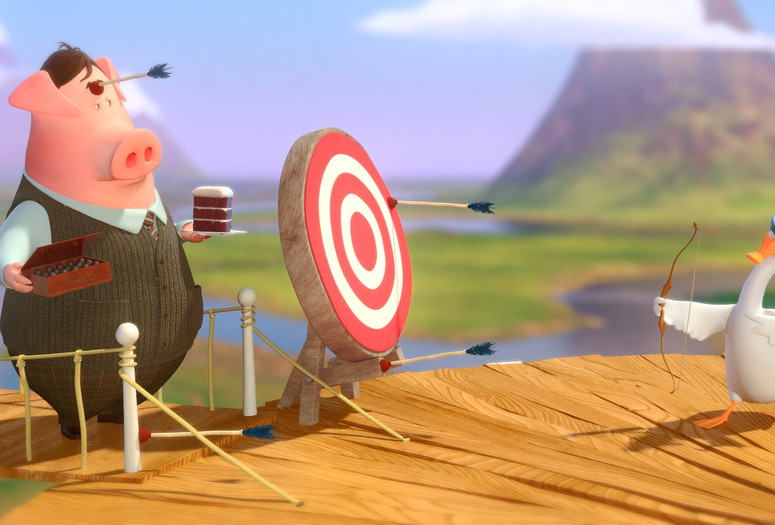 The Pig on the Hill. 2017. USA. Directed by Jamy Wheless and John Helms. 6 min.
Living on a hill by himself feels perfect to Pig. However, when freewheeling Duck moves in next door, Pig learns that friendship is what has been missing all along.
When the Dust Settles. 1998. Canada. Directed by Gene Louise Johnson. 8 min.
The prairie wind is not responsible for the dirt flying in this film; the culprits are neighboring gophers with an un-neighborly appetite for anger and revenge.
The Happy Lion. 1990. USA. Directed by V. Bedrick. 7 min.
Based on the picture book by Louise Fatio and illustrated by Roger Duvoisin, this film tells the sweet story of a lion in a Paris zoo who tries to return his friends' visits by escaping into town to see them.
The Yellow House: Kevin the Superhero. 2009. Denmark. Directed by Catherine Kunze and Jacob Wellendorf. In Danish; English subtitles. 9 min.
In this entry from a series of films about two little girls named Chloë and Thea who live in a Copenhagen housing block, we are introduced to their six-year-old friend Kevin, who dreams of growing up to be a superhero, and Kevin's mother, who comes from Senegal, Africa.
Subtitles will be read aloud by a Museum educator.
Enjoy new and classic family-friendly short films, engaging discussions, and suggestions for follow-up activities in the Museum's galleries. This program is for individual families of up to two adults and up to three kids.
View more Family Programs.

Tickets: Free tickets are distributed on a first-come, first-served basis starting at 10:00 a.m. on the day of the program at the information desk in the Education and Research Building, at 4 West 54 Street.

Contact: (212) 708-9805 or [email protected]

Accessibility: Sound amplification devices are available for all programs. All theaters are equipped with loop systems and are wheelchair accessible.