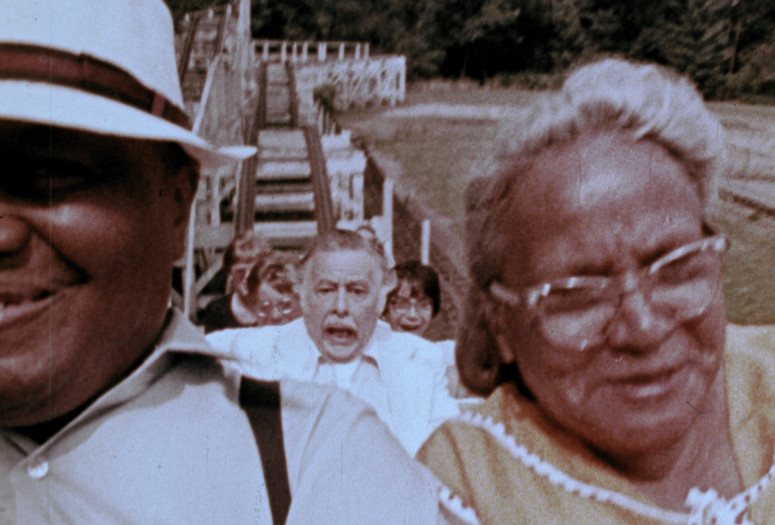 Home Movie. 1973. USA. Directed by Jan Oxenberg. DCP. 12 min.
This first work by Jan Oxenberg (Thank You and Goodnight) is frequently cited as one of the first lesbian feminist films. Speaking over home movies shot by her parents, Oxenberg wryly reflects on her traditionally "girly" childhood, juxtaposing these memory images with contemporary footage of political demonstrations and an all-female football game. New 4K Restoration by IndieCollect, made possible with funding from Women's Film Preservation Fund of New York Women in Film & Television, Hollywood Foreign Press Association, and Andy Warhol Foundation for the Visual Arts.
The Amusement Park. 1973. USA. Directed by George A. Romero. Screenplay by Wally Cook. With Lincoln Maazel. DCP. 60 min.
Filmed for a Lutheran charity in 1973 but never released, this 60-minute public service announcement—ostensibly meant to sensitize the public to the dangers of ageism—turns out to be a thoroughly personal work by George A. Romero, every bit as pessimistic as his Night of the Living Dead, and only slightly less ghoulish. As an elderly everyman in an all-white suit (Lincoln Maazel, later of Martin) wanders through a grim Pittsburgh amusement park, he's confronted by a series of mysteriously hostile strangers—children, bikers, assorted authority figures—all of whom seem bent on humiliating him. This is the premiere of a new 4K digital restoration, commissioned by the George A. Romero Foundation and carried out by IndieCollect.