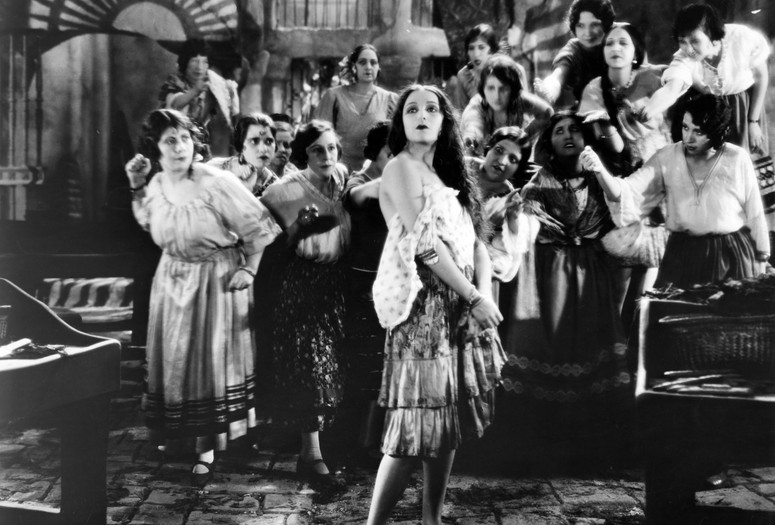 Duck Soup. 1927. USA. Directed by Fred L. Guiol. With Stan Laurel, Oliver Hardy, Madeline Hurlock. DCP. 20 min.
Stan Laurel and Oliver Hardy first appeared as a team (though their characters are not quite fully formed) in this 1927 short, based on a music hall sketch by Stan's father, Arthur J. Jefferson. Previous prints came principally from a cropped, incomplete 9.5mm version, but the discovery of a tinted 35mm nitrate print at the British Film Institute made possible this sparkling new restoration from Lobster Films.
Loves of Carmen. 1927. USA. Directed by Raoul Walsh. Screenplay by Gertrude Orr. With Dolores del Rio, Victor McLaglen, Don Alvarado. DCP. Silent. 90 min.
After the Mexican beauty Dolores del Rio shot to stardom in Raoul Walsh's 1926 runaway hit What Price Glory?, Fox Film quickly cast her as Prosper Mérimée's fiery Spanish gypsy, again under Walsh's direction, in what became Fox's highest-grossing film of 1927. For Walsh and Del Rio, Carmen is no longer a smoldering femme fatale, but a bouncing embodiment of life force and libido, who finds her male counterpart in the bullfighter Escamillo (Victor McLaglen) and her nemesis in the dark romanticism of cavalry officer Don José (Don Alvarado). Despite the film's success, no prints of the domestic version are known to exist; this MoMA restoration was painstakingly reconstructed from an export version preserved by the National Film Archive of the Czech Republic. Restoration premiere.
Restored by the Museum of Modern Art and The Film Foundation, with funding provided by the George Lucas Family Foundation and the Franco-American Cultural Fund, a unique partnership between the Directors Guild of America (DGA), the Motion Picture Association of America (MPAA), Société des Auteurs, Compositeurs et Editeurs de Musique (SACEM), and the Writers Guild of America, West (WGAW).