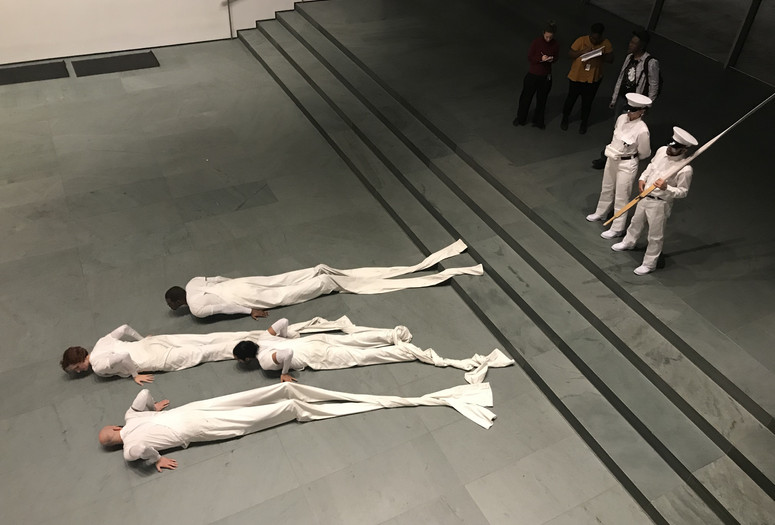 Performances will occur within the hours of 1:00 and 4:00 p.m.
Since 1978, Pope.L (American, b. 1955) has engaged in more than 30 individual and collective crawling pieces across the United States and beyond. On the occasion of the exhibition member: Pope.L, 1978–2001, he has developed a new crawl piece entitled Dressing Up for Civil Rights.
Consisting of four individual crawlers and two pursuers enacting the role of police officers, Dressing Up for Civil Rights is a moving tableau that merges choreographed sound and physical action. Over a period ranging from one-and-a-half to three hours, the tableau will move slowly along a predetermined route throughout the Museum. Each of the crawlers is assigned a role that dictates a tension between the four crawlers and the pursuers.
Director: Pope.L
Performers: anthamatten-dominguez, Kym Bernazky, Orlando Cordova, Miguel Angel Guzmán, Larissa Marten, Christopher "Unpezverde" Núñez
Original music and sound design: Matthew Sage
Costume design and fabrication: Sally Dolembo
Tailoring by Atelier Q
Costume assistant: Lisa Marion
Makeup: Emily Schubert
Documentation: Oresti Tsonopoulos (videography), Walter Wlodarczyk (photography)
The artist offers special thanks to Stuart Comer, Kimberly Golding, Lizzie Gorfaine, Danielle A. Jackson, and Beatrice Johnson at MoMA; Lucy Mitchell-Innes, Courtney Willis Blair, and Isabelle Hogenkamp at Mitchell-Innes and Nash; and Noelle Africh, Fabienne Elie, and Dave Lloyd at Pope.L Studio.
Organized by Stuart Comer, The Lonti Ebers Chief Curator of Media and Performance, Department of Media and Performance, with Danielle A. Jackson, Curatorial Assistant, Department of Media and Performance. Performances produced by Lizzie Gorfaine, Producer, with Beatrice Johnson, Assistant Performance Coordinator, Performance and Live Programs.

MoMA's presentation is part of Pope.L: Instigation, Aspiration, Perspiration, a trio of complementary exhibitions organized by MoMA, the Whitney Museum of American Art, and Public Art Fund.