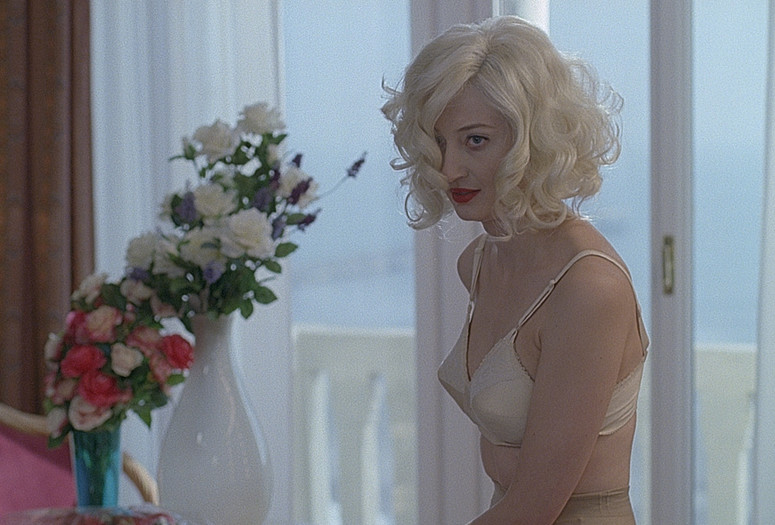 Un piccolo spettacolo (A Little Show). 2005. Italy. Directed by Pier Paolo Giarolo, Alice Rohrwacher. Cowritten, co-edited, and photographed by Rohrwacher. Digital projection. 62 min.
This documentary portrait of a traveling circus family—populated with performing kids, dogs, and chickens—seems to situate us squarely in Fellini country. But Giarolo and Alice Rohrwacher are up to something far less obvious, tempering the film's antic whimsy by capturing the dogged determination of the Solunas as they venture by overstuffed caravan from town square to town square, all the way to the Balkans. Courtesy Officina Outroad
North American premiere
9 × 10 novanta: "Una canzone" (9 × 10 Ninety: "A Song"). 2014. Italy. Written, directed, and edited by Alice Rohrwacher. DCP. In Italian; English subtitles. 10 min.
One of the little-seen delights of this retrospective, Alice Rohrwacher's short film recovers the lost art of singing through an ever-surprising montage of archival footage, commissioned by the Istituto Luce on its 90th anniversary. Where did you learn the songs you know? Who taught you? These are the questions Rohrwacher posed in her neighborhood, combining the answers with archival material from Luce Cinecittà. Italians recall their childhood memories of music against a strange concatenation of historical images involving peasant rituals, World War I fighter planes, scientific studies of plants and sounds, and an underwater ballet of mermaids and dolphins. Courtesy Istituto Luce Cinecittà
North American premiere
La Traviata (Violettina). 2016. Italy. Directed by Alice Rohrwacher. 4 min.
In 2016 Alice Rohrwacher directed her first opera, Verdi's La Traviata, for Teatro Municipale Valli, observing that "the image we chose to tell Traviata evokes the hands of a little girl who is doing 'he loves me he loves me not' with a daisy. It's the gesture that made Violetta famous, allowing us to say that while yes, she is Violetta the prostitute, the kept woman, the spirit of her gesture is young and spontaneous, [and through it] we are able to see the little girl she was." This excerpt was projected during the prelude of the play's third act.
North American premiere
De Djess. 2015. Italy. Written and directed by Alice Rohrwacher. With Alba Rohrwacher, Yanet Mojica, Chiara Paoluzzi. DCP. 14 min.
Commissioned by the fashion house Miu Miu for its Women's Tales series, Alica Rohrwacher's absurdist delicacy uses stop-motion animation, spoken nonsense, and a playful haute couture aesthetic to create a series of arresting tableaux: diaphanous dresses that wash ashore like jellyfish, a prick of blood that drops on white silk, a prim waitress who follows a trail of rhinestone bread crumbs, and a Marilyn Monroe lookalike (Alba Rohrwacher) who toys with the impotent paparazzi crowding around her. Courtesy Istituto Luce Cinecittà and Miu Miu
New York theatrical premiere