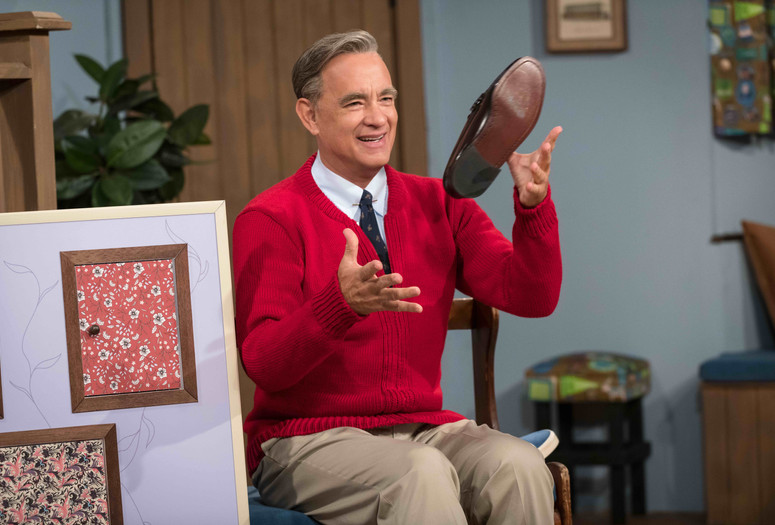 A Beautiful Day in the Neighborhood. 2019. USA. Directed by Marielle Heller. Screenplay by Micah Fitzerman-Blue, Noah Harpster. With Tom Hanks, Matthew Rhys, Susan Kelechi Watson
"Lloyd Vogel (Matthew Rhys) is assigned to write a profile of Rogers, whom he long ago dismissed as a sappy irrelevance. From their first encounter, he's forced to look closer. He's surprised to see Mr. Rogers on the set of his show, gently showing his young viewers how to deal with real-life challenges, conflict, and pain. 'There's no normal life that is free from pain,' Rogers says simply. And as Rogers observes Lloyd, he sees the pain inside this hardened, grown man who has shut himself off from a lifetime of unresolved conflicts with his father (Chris Cooper) and wife (Susan Kelechi Watson). As Lloyd shadows Rogers, the shallow profile he was planning turns out to be a momentous and meaningful encounter for both men.
Drawing on Tom Junod's Esquire article about his experience with Rogers, A Beautiful Day in the Neighborhood offers both real catharsis and the pleasure of a signature Tom Hanks performance. Technically perfect and imbued with the almost spiritual good that marks all his work, his Fred Rogers finds adult truths in the deep wisdom of childhood" (2019 Toronto International Film Festival program notes). Courtesy Sony Pictures.